Aloft Hotels and Paste Announce Free 10-Show Summer Series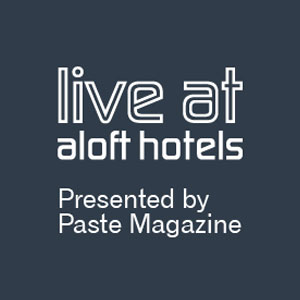 Aloft Hotels and Paste Magazine are teaming up for a summer-long concert series of exclusive live music events starting May 17 in Tallahassee, Fla. Live At Aloft Hotels presented by Paste Magazine will feature up and coming artists at 10 Aloft Hotel locations across the United States including Chicago, Philadelphia and Washington D.C.
Paste and Aloft are offering free admission to each show with an online RSVP. All RSVPs are automatically entered for a chance to win a special VIP pre-show meet-and-greet with the featured artist. Attendees will also have a chance to win a one-night stay at an Aloft Hotel along with other awesome prizes.
Live At Aloft Hotels Presented by Paste Magazine launches on May 17, with a performance from Canadian indie-pop sextet Hey Rosetta! at the Aloft Tallahassee Downtown. The band will play an intimate set that includes songs from their sophomore album, Seeds. Kentucky rockers Sleeper Agent will showcase their infectious exuberance at the Aloft Birmingham Soho Square on May 20.
If you're in Tallahassee or Birmingham areas and want to see Hey Rosetta! or Sleeper Agent, RSVP here to reserve your spot, win prizes and spend your summer in style!
Hey Rosetta! Live At Aloft Hotels presented by Paste Magazine
Thursday, May 17 at 8 p.m.
Aloft Tallahassee Downtown
200 North Monroe Street
Tallahassee, Fla. 32308
Sleeper Agent Live At Aloft Hotels presented by Paste Magazine
Sunday, May 20 at 7 p.m.
Aloft Birmingham Soho Square
1903 29th Avenue South
Homewood, Ala. 35209
Strand of Oaks Live At Aloft Hotels presented by Paste Magazine
Saturday, June 9 at 7 p.m.
Aloft Philadelphia Airport
4301 Island Avenue
Philadelphia, Pa. 19153
Harper Blynn Live At Aloft Hotels presented by Paste Magazine
Sunday, June 10 at 7 p.m.
Aloft Washington National Harbor
156 Waterfront Street
National Harbor, Md. 20745
Langhorne Slim Live At Aloft Hotels presented by Paste Magazine
Tuesday, June 12 at 6:30 p.m.
Aloft Chapel Hill
1001 South Hamilton Road
Chapel Hill, N.C. 27517
Cheyenne Marie Mize Live At Aloft Hotels presented by Paste Magazine
Wednesday, June 13 at 7 p.m.
Aloft Charlotte Uptown at the EpiCentre
210 East Trade Street
Charlotte, N.C. 28202
Dar Williams Live At Aloft Hotels presented by Paste Magazine
Thursday, June 14 at 7 p.m.
Aloft Charleston Airport & Convention Center
4875 Tanger Outlet Boulevard
North Charleston, S.C. 29418
Young Man Live At Aloft Hotels presented by Paste Magazine
Monday, July 16
Aloft Chicago O'Hare
9700 Balmoral Avenue
Rosemont, Ill. 60018
The Daredevil Christopher Wright Live At Aloft Hotels presented by Paste Magazine
Tuesday, July 17
Aloft Milwaukee Downtown
1230 Old World Third Street
Milwaukee, Wis. 53212
Wild Cub Live At Aloft Hotels presented by Paste Magazine
Thursday, July 19
Aloft Nashville-Cool Springs
7109 South Springs Drive
Franklin, Tenn. 37067
Others Tagged With