Avengers' Real-Life Damage Would Have Cost $160 Billion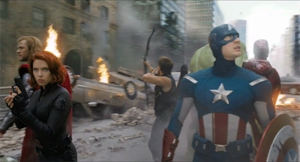 The Hulk and company smashed box office records in The Avengers last weekend, grossing more than $207.4 million domestically over the weekend, according to Deadline Hollywood. Those numbers pale, however, in comparison to the estimates of how much the United States would have lost had the creeptastic Chitauri actually swooped in from outer space and ravaged Manhattan.
The Hollywood Reporter reached out to Kinetic Analysis Corp. (KAC), one of the leading companies in predicting the financial costs of disasters, who estimated that the overall damages wrought in The Avengers would have exceeded $160 billion. The firm used the same computer-generated models that determine the destruction of nuclear weapons to estimate the breakdown: Physical damage of the battle would have cost between $60 billion-$70 billion. Economic and cleanup expenses would have reached $90 billion. Plus the company noted the cost of losing thousands of lives.
To put Joss Whedon's film in perspective, the terrorist attacks on 9/11 cost $83 billion in 2001, Hurricane Katrina cost $90 billion in 2005, and the Japanese tsunami in 2011 cost $122 billion, according to KAC. Good thing The Avengers was mostly CGI, then.
Got news tips for Paste? Email news@pastemagazine.com.
Others Tagged With