Ben Folds Talks New Album, BF5 Reunion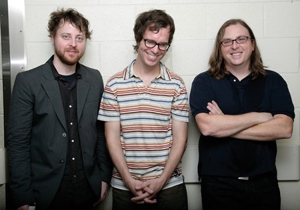 Chatting with singer/songwriter, pianist and drummer Ben Folds last week was life-affirming and giddiness-inducing, but also an exercise in evaluating irony. When the last Ben Folds Five album, The Unauthorized Biography of Reinhold Messner, came out in 1999, Folds, Robert Sledge and Darren Jessee didn't have iPhones to tend to between songs. Twitter obviously didn't exist yet, so interacting with fans in up to 140 characters would have been incomprehensible. Few people, much less musicians, owned laptops, and no one existed in a bubble of Wi-Fi. Buzzwords like "digital crowdsourcing" and "fan-funding" had not yet pervaded the public's lexicon.
Not to be the cynic here, but when Folds talks about how he doesn't want the new BF5 album to have a narrative, I have to laugh—the narrative was already written.
The recently reunited alt-rock trio currently has no publicist (although Folds said assuredly that they'll enlist someone eventually), no label and no distributor yet. The band, led by its fearless namesake, is doing everything on its own to independently release its yet-to-be-titled new record. But Folds very clearly states that he and the band aren't trying to reinvent the system or the industry.
The band has taken to PledgeMusic, an online service like Kickstarter that helps artists fund their musical projects, as well as various social media outlets to help fundraise and publicize. On Twitter especially, Folds has been propagating the hashtag #ImaDamVP so that each fan who helps spread awareness and donates to the cause becomes an honorary Vice President of Promotions for BF5's "de facto record label." The band benefits by having thousands, if not millions, of fans doing their publicity for them for free. And fans themselves are rewarded with free music and their names printed in the accompanying artwork for the album. Win-win.
The song BF5 has been pushing is a frenetic piano rocker called, "Do It Anyway" that was inspired by an audience member shouting at Folds during his now-famous improv sets (you know, the ones that spawned gems like "Rock This Bitch"). In his classic deadpan, Folds likened the sentiment of the track to when, "you don't feel like helping an old lady cross the road, but do it anyway and shit like that." Chuckling a bit, he continues, "It ended up being something a little different for the record, so that's where it came from."
In addition to "Do It Anyway," bits of another new tune titled "Sky High" can be heard in the background of the band's fundraising promo video. Folds says that their first recording sessions yielded a wide range of music—nearly three discs worth—ranging from experimental and jazzy tunes and hints that the record will be very raw.
"There are very few overdubs on the record," Folds said. "We really spent them wisely. Or maybe it wasn't wise. Maybe we were just chintzy with it. We did an orchestral overdub on a song called 'Being Frank' and it just needed that kind of attention."
On another song, the band partnered with Natalie Dawn of the indie duo Pomplamoose. "It's kind of like a Sonny and Cher thing," he described. "We're both singing in complete harmony for most of the song and that's unusual for us to have some guest singer…singing a third above me the entire time, but it just sounded right. The song needed a female presence."
According to Folds, the trio will finish recording between performing at Mountain Jam and Bonnaroo this summer and is aiming for a September release. And as for this innovative marketing and publicity campaign, Folds said, "We're really not trying to change the music business or even the way that we do it. We just recognize that there's a moment of opportunity where we can do it this way and try it and we're all game and it is a big risk. We all talked about it and everyone's cool with it. If this means we only end up selling a few records, then that's totally fine.
"You start to realize that CDs end up getting used to prop up your lawnmower or tools in the basement. CDs don't stick around, anyway. Mp3s don't stick around. We're all gonna die. Fuck it. We just decided, 'Let's just rock it and enjoy this and not worry about it too much."
Download "Do It Anyway" for free and watch Ben Folds Five's promo teaser below.
Got news tips for Paste? Email news@pastemagazine.com.
Others Tagged With