Captain America 2 Plot Details Revealed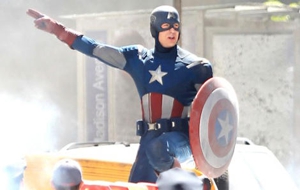 With the immediate success of The Avengers, fans are already clamoring for what's coming next. Producer Kevin Feige, who was named Marvel's President of Production in 2007, recently offered some hints on the futures of individual members of the Avengers, as well as on the series as a whole.
In particular, Feige revealed more details on the Captain America sequel. He told CHUD (Cinematic Happenings Under Development), "Cap…is stuck in the modern day with no friends or family, there will be some revelations of who is still alive from his days in WWII, but SHIELD and Nick Fury are kind of his confidants right now. So of all these movies, Captain America 2 will be most closely associated with Avengers."
But before we'll see a follow-up to the merely week-old Avengers blockbuster, Captain America 2 (which is scheduled for an April 2014 release), Iron Man 3 (May 2013) and Thor 2 will all first hit the silver screen. The characters, "have to grow, they have to change," explained Feige. "What they've gone through in this movie will impact their state of mind and where they stand in their next movies. Then whatever they go through in those movies is going to affect where we meet them in the next Avengers film."
Got news tips for Paste? Email news@pastemagazine.com.
Others Tagged With