Catching Up With Echo and the Bunnymen's Will Sergeant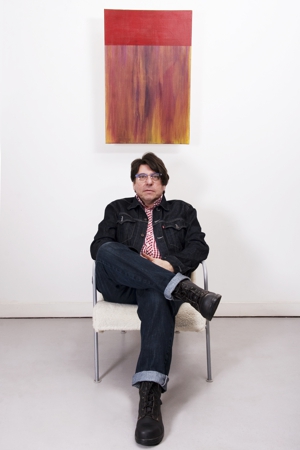 Art rock has a long and storied history perpetuated by bands like Jethro Tull, King Crimson and the Velvet Underground. And then, of course, there are so many performers who have become artists as well, ranging from Brian Eno to Bon Jovi's Tico Torres, with too many modern acts to name. Now, one more talented musician can be added to this list of cross-media artists, as Echo and the Bunnymen guitarist Will Sergeant opens his first major American gallery exhibition tomorrow.
Coming to Los Angeles straight from the Penny Lane Gallery in Sergeant's hometown of Liverpool, the pieces in "My Own Worst Enemy" will be on display at the Substrate Fine Art Gallery from May 18 through June 16. Sergeant, who participated in Mr. Brainwash's L.A. Art Show last year and whose paintings, collages and screen-prints have appeared all over the world, told Paste all about his artistic history, influences and goals.
Plus, be sure to check out a slideshow of some of Sergeant's work below, courtesy of the artist himself and Capitol Records.
Paste: Why did you gravitate to printed, tangible art after such a successful career with Echo and the Bunnymen? How did your musical career influence your artistic one?
Sergeant: The whole idea of calling myself an artist was a ridiculous dream, then came punk. Anyone could be a punk. This was the catalyst that enabled me to use my creativity. And music became my route. I would still enjoy making things of an artistic nature: collage, little drawings or pastel sketches and tapes of odd music and sounds. My understanding of how art worked was pretty limited. I knew that the Dada movement had influenced punk. I knew about Op Art and Pop Art. I also knew Andy Warhol and the Velvets were the coolest people ever.
In the very early '80s I was asked by a friend of our lighting man at the time to participate in a postcard art project at the Arnolfini Gallery in Bristol. This was very exciting to me. I made postcards out of various things I came across while away on a European tour—bits of posters, things I found in the streets. These would be sewn together or glued. I would burn pieces of maps and add them to all kinds of ephemera that I found interesting. I felt very arty. As time went on, being in the band exposed me to all kinds of art. I would go to galleries if there was time while on tour. All the places I have been around the world seeped into my consciousness.
Paste: Who/what are some of your artistic influences? How would you describe your own style?
Sergeant: I don't really think I have a style as such yet. If you need to call me anything, I would say experimental as I am still experimenting with different techniques and working on all the possibilities of art. I like random elements with structured parts and the relationship between the two.
Everything influences me, not just artists. The history of my family and my life has an effect more than anything else. Most of the pieces are autobiographical. I gravitate to artists of a more minimalist nature. Though when you look into the art you realize there is a lot going on. It's the same with music. I like simple guitarists, nothing too fancy. I like the Russian Constructivism, Alexander Rodchenko, Suprematism, Kazimir Malevich, The New York School, the color field painters and the abstract expressionists, Dada, Peter Blake, Gilbert & George. The list is endless, really.
Paste: How did the city of Liverpool affect your artistic style?
Sergeant: I live up the coast about 20 miles from the City Centre. I know by American standards this is not far but here it's another world. I have never really been a city boy. I grew up in what was then the country. It was only eight miles from Liverpool but it was more agricultural. From 16, I worked in the City Centre and this was a major influence on me. It exposed me to all kinds of musical and art events.
Liverpool people have always thought of themselves as different to the rest of the country, kind of outsiders with their own rules. This gives them a bravado. This is perfect for people involved in music as it helps if you believe you are the most important thing on the planet, and in the eighties we did believe. I have since wised up and know we are just a minor footnote in the aftermath of punk.
Paste: What's the story behind the name of this exhibition, "My Own Worst Enemy?"
Sergeant: The title relates the things I have done over the years that have been mistakes, not just by me but also the people around me. I'm pretty big on the truth and I maybe say too much sometimes. My dad is also involved in this. He's nearly 92 and is a very complicated character. He is also his own worst enemy. I'm pretty negative person and this does not help. With the art, I am learning to have a more positive outlook.
Paste: Why did you choose for "My Own Worst Enemy" to go from the Penny Lane Gallery to Los Angeles' Substrate Gallery? How do you think the public's reactions will differ?
Sergeant: I was invited to show at Penny Lane Gallery by Christine [Colvin], the owner of the gallery. I was brought to her attention by my friend, "Howard be Thy Name," a musician and artist living in Liverpool. He knew of my art and brought the two of us together. After the show I knew I wanted to expand the possibilities and the USA seems like the best place to go. I asked my friends in America to keep their eyes open for a gallery that may be interested. We have some very good friends in the States who are willing to help me with this project. One of these friends knew of the Substrate Gallery and thought it would be a perfect match. They had recently shown the work from the Spacemen 3 album designs so there is a kind of connection. They put me in touch with them and we agreed it would work well.
I am scared and excited at the same time. I am out of my comfort zone. When we go on tour we have a lot of back up, here I feel a little naked. The reaction to the work so far has been really good both at the Penny Lane exhibition and online via my site. I hope the L.A. people will dig it.
Paste: What are your hopes/goals for "My Own Worst Enemy?"
Sergeant: My hopes? Just to continue with the art. I love it so much. What I like the most is it's just me and my mind involved with the creative process, I really like that. It's mine. It seems in the art world, what you do leads on to what you do next, so I'm looking to do more exhibitions. I am working all the time and have some new things in the pipeline with both music and with art. I feel like a rubber band that has been stretched for the last 30 years and now it's been released and I am hurtling forward. I am catching up on all the time that I let the art side of me lapse.
Paste: What's next on the horizon for you after this exhibition?
Sergeant: I am in the process of working on a Master of Philosophy at the Liverpool School of Art and Design part of John Moores University. I am collecting as much as I can of my past artistic ventures, both in the visual and sound realms for a catalogue raisonné. This is a very new and exciting chapter in my life. I have been lucky to have started the band back in 1978, I view it all as art in one form or another. It has led me to this point. I will be sharing my art with more of the world, destinations unknown at the moment.
Others Tagged With