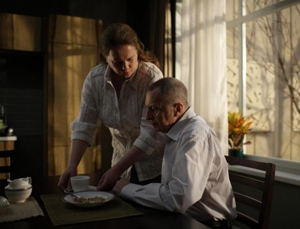 With Elena, director Andrey Zvyagintsev was interested in exploring an uncompromising Darwinian world—as he describes it, "tarantulas in a jar." It's a bleak landscape to paint, and he's done so with only a few characters and a relatively simple story.
Set in Moscow, Vladimir (Andrey Smirnov) is a wealthy, retired man living in a modern, sleek apartment. His former nurse, Elena (Nadezhda Markina), is his wife, but she lives in another room with a separate TV and still treats him like a patient. She wakes him up, brings his breakfast to bed and otherwise serves him like a maid. His daughter, Katerina (Yelena Lyadova), is completely estranged but does show up when Vladimir becomes ill and is hospitalized. The event forces Vladimir to confront his mortality and think about writing his will. Elena must also think about her welfare as she faces the prospect of being widowed even as her son's family struggles with little money.
Simple and spare, Elena succeeds in creating a dark world. Vladimir's apartment is shot beautifully with a cold precision. Smirnov's portrayal of Vladimir is tough, uncompromising and very believable, as is Elena Lyadova's depiction of his daughter. The score by Philip Glass also adds a cool finish to a frigid environment. However, the story itself is ultimately a bit too thin, with too few chess pieces on the board and therefore too few surprises. Perhaps more involvement with the character of the daughter or more sympathetic qualities given to Vladimir would've helped. Whatever the case, Elena could have used a bit more life injected into its sterile, though beautifully shot, confines.
Director: Andrey Zvyagintsev
Writers: Oleg Negin and Andrei Zvyagintsev
Starring: Nadezhda Markina, Andrey Smirnov, Elena Lyadova, Aleksey Rozin, Evgenia Konushkina, Igor Ogurtsov, Vasiliy Michkiv, Alexey Maslodudov
Release Date: May 16, 2012 (limited)
Others Tagged With