Flaming Lips Record Store Day Album to Be Released Officially
The Flaming Lips and Heady Fwends Due Out June 26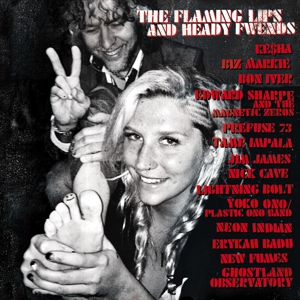 Due to popular demand, The Flaming Lips will be releasing The Flaming Lips and Heady Fwends physically and digitally on June 26. The album, which was originally an exclusive Record Store Day release, features collaborations with Yoko Ono, Nick Cave, Bon Iver and Ke$ha, among others. The June 26 edition of the release will also feature a track with Aaron Behrens of Ghostland Observatory that was not on the album's Record Store Day version.
The Flaming Lips are currently finishing up a full-length studio album, which is scheduled to be released sometime this fall. Below you can find a tracklisting for The Flaming Lips and Heady Fwends, as well as their current summer tour schedule. Another fall tour will be scheduled to coincide with the release of their next album.
Flaming Lips and Heady Fwends Tracklist:
1. "2012 (You Must Be Upgraded) "(w/ Ke$ha, Biz Markie & Hour Of The Time Majesty 12)
2. "Ashes In The Air" (feat. Bon Iver)
3. "Helping The Retarded To Know God" (feat. Edward Sharpe and The Magnetic Zeros)
4. "Supermoon Made Me Want To Pee" (feat. Prefuse 73)
5. "Children Of The Moon" (feat. Tame Impala)
6. "That Ain't My Trip" (feat. Jim James of My Morning Jacket)
7. "You, Man? Human???" (feat. Nick Cave)
8. "I'm Working At NASA On Acid" (feat. Lightning Bolt)
9. "Do It!" (Featuring Yoko Ono/Plastic Ono Band)
10. "Is David Bowie Dying?" (feat. Neon Indian)
11. "The First Time Ever I Saw Your Face" (feat. Erykah Badu)
12. "Girl, You're So Weird" (feat. New Fumes)
13. "Tasered And Maced" (feat. Aaron Behrens of Ghostland Observatory)
The Flaming Lips Summer Tour Dates:
June
1 - Dallas, Texas @ Happy Funtime Fest / Gexa Energy Pavilion
2 - Houston, Texas @ Free Press Summer Fest
8 - Porto, Portugal @ Primavera Sound Fest.
9 - Manchester, United Kingdom @ Weekender
16 - Toronto, Ontario @ NXNW Fest./ Young Dundas Sq
21 - Lawrence, Kan. @ Liberty Hall
22 - Lawrence, Kan. @ Liberty Hall
24 - St. Paul. Minn. @ Rivers Edge Fest / Harriet Island Park
July
7 - Kongsberg, Norway @ Kongsberg Jazz Fest.
10 - Padua, Italy @ Sherwood Fest
11 - Turin, Italy @ Le Gru
13 - Ostrava, Czech @ Colours of Ostrava Fest
15 - Dour, Belgium @ Dour Fest
20 - Thornville, Ohio @ All Good Fest
22 - Dover, Del. @ Firefly Music Fest
27 - Schonwalde-Glien, Germany @ Greenville Fest
August
16 - St. Louis, Mo. @ LouFest / Forest Park
Got news tips for Paste? Email news@pastemagazine.com.
Others Tagged With