Kurt Cobain's Daughter Assumes Public Image Rights
Addiction Website The Fix Says Frances Bean Cobain Has Controlled Estate Since 2010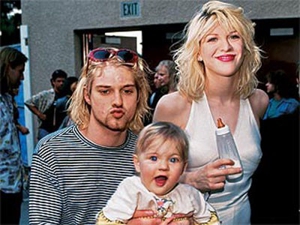 Addiction and recovery website The Fix reported yesterday that 19-year-old Frances Bean Cobain has been in control of Nirvana publicity rights that include the name, likeness and appearance of her late father, Kurt Cobain—. This transfer of power happened in December 2010 when Love received a $2.75 million loan from Frances' trust fund and agreed to resign from her post as the manager of End of Music LLC—the company responsible for collecting funds from Cobain's publicity rights.
The Fix confirmed that until Love repays that loan, she will not receive any royalties from using Cobain's likeness or image and Francis and her advisers will continue to control such output.
This represents a lucrative deal for Frances and a financial blow to Love, according to Jonathan Faber, an attorney and managing partner of the Luminary Group (a licensing, consulting and intellectual property management company that at one point represented Cobain's estate). Faber explained to The Fix, "Publicity rights are potentially worth a fortune…They amount to the intellectual property rights."
Frances and Love are still entrenched in legally dividing Cobain's belongings, including musical equipment, clothing and several of his paintings, all of which are housed in the Los Angeles high-end storage facility, Art Pack. But neither Frances nor Love has any control over the use of Nirvana's music, as Larry Mestel of Primary Wave Music owns 100 percent of those administrative rights.
The Fix issued a statement to Paste today to confirm their source: "We can confirm that the docs are dated 2010. Unfortunately we can't confirm where they came from because of the need to protect our source."
Got news tips for Paste? Email news@pastemagazine.com.
Others Tagged With