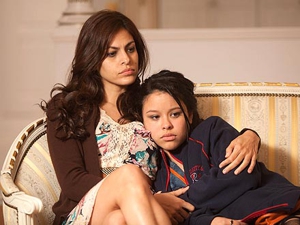 You'll have to forgive Ansiedad (Cierra Ramirez) for being anxious. For one thing, her name literally means "anxiety." For another, she's smart, sophisticated—and the only adult in her single-parent/only-child home. While her mother Grace (Eva Mendes) struggles to balance the responsibilities of motherhood (working two jobs to pay her daughter's tuition) with her affair with a married man, it's teenager Ansiedad who washes the dishes, scrubs the toilet and removes her sleeping mother's pumps after a late night out. More often than not, Ansiedad eats dinner alone, dunking hot dog buns into a glass of bad coffee.
Adulthood can't come soon enough, so when her English teacher Ms. Armstrong (Patricia Arquette) introduces the coming-of-age novel, Ansiedad decides to write her own story, metamorphosing from "plucky innocence" with a pink bike with streamers and a grandmother on her deathbed (both borrowed) to grownup. She charts her path on a colorful vision board with steps like "Slutwear," "Dump Best Friend" and "Lose Virginity"—a plan she's executing with the help of said BFF, Tavita (Raini Rodriguez).
Girl in Progress plays like an after-school special turned on its head, with the protagonist deliberately manufacturing the plot points of, well, an after-school special. This approach is at once edgier and safer than the genre it's riffing on. Edgier because Ansiedad announces what she's doing as she's doing it, calling out not only the supporting characters (her mother, her teacher, the bad boy who will help her accomplish her final task) on their roles in her narrative but the formula itself. But safer because none of it—the drinking, the sex, the betrayal of her best friend—is really real, carried out sometimes literally with a wink.
Except that it ends up being real. In true after-school-special fashion, Ansiedad ends up experiencing the very coming of age she thought she had been orchestrating all along.
Mendes is the film's selling point, filling the pink "Mother's Day Weekend" one sheet with the same easy sexuality she exhibits on-screen. Grace was just a child herself when she became a mother, and part of her charm is her naïveté about the future of both her relationship with gynecologist Dr. Harford (Matthew Modine) and her plans to study graphic design and work for Bill Gates. (That was her plan, anyway, when they moved to Seattle.) Only occasionally annoying, Mendes keeps Grace sympathetic.
A veteran of the Disney Channel and Nickelodeon, 17-year-old Ramirez, too, gives a solid performance, and Hiram Martinez's script offers an original twist on a familiar form as well as some tame commentary on race. There's little to complain about here, but there's also little to cheer about. Benignly enjoyable during viewing, the production, helmed by Patricia Riggen (Under the Same Moon), ultimately takes too few risks to be considered among the classic bildungsromans Ansiedad reads in school.
Director: Patricia Riggen
Writer: Hiram Martinez
Starring: Eva Mendes, Matthew Modine, Cierra Ramirez, Patricia Arquette, Eugenio Derbez
Release Date: May 11, 2012
Others Tagged With