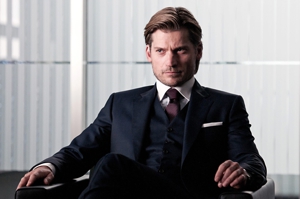 Headhunters is a shocking, macabre suspense thriller/action/drama/semi-slasher hit all in one. Blood and gore freely abound, but this is no Kill Bill: Vol. 1. Director Morten Tyldum's characters are too much like actual human beings with weaknesses and insecurities, resisting comparison to Tarantino's super heroes and heroines. Unfortunately, these characters reveal themselves (and their flaws) rather slowly, and viewers may not immediately connect with the story. Based on Jo Nesbø's bestselling novel, Headhunters is a film you grow to like, as it eventually unfolds into an exciting and unpredictable crime story. A word to the movie-going wise: hold on to your seats, heads, art collections and dogs. It's headhunting season.
When the film opens, Roger Brown (played by Aksel Hennie) is stealing a large work of art from an undisclosed location. He shares with the audience his fine artnapping commandments, but also gives a more personal narrative, admitting to a severe Napoleon complex that takes quite a toll on his relationship with his gorgeous, statuesque wife Diana (Synnøve Macody Lund). Diana believes that Roger is a successful headhunter (employment recruiter) and is unaware of his criminal activity on the side.
Initially, there is a significant disconnection from these main characters. The tone of the film is fast-paced and unsentimental. Roger comes off as, well, a douchebag. And Diana is nothing more than a ridiculously pretty face; her complaints about their childless marriage simply are not believable because there is little chemistry between the two actors.
The action picks up when Roger decides to steal from the wrong (very wrong) guy. Clas Greve, a tall, blonde and handsome former mercenary (played by Nikolaj Coster-Waldau from HBOs Game of Thrones) is allegedly in possession of a painting worth millions. The introduction of Clas renders Roger, finally, relatable. The main character (initially cold and confident—even in his apparent shortcomings) turns weak and confused. When he begins to suspect that Clas and his wife are conspiring together (in more ways than one), he grows weak, confused and paranoid.
Hennie's character works with his right-hand man Ove (Eivind Sander) on the steal. In just a few scenes, Sander provides much of the film's comedy—one wishes there were a bit more. When first confronted with the job of a lifetime, Ove takes some time deliberating on whether or not to help Roger obtain the painting worth millions, or spend the weekend with his beloved Russian prostitute. (He'd been planning her visit for some time—we've all been there.)
Viewers will literally be on the edge of their seats as Clas hunts Roger down (and it is a true hunt, the exquisitely grotesque details of which would require a spoiler alert). Clas Greve is the absolute and relentless villain, and, as Roger, Aksel Hennie de-glamorizes the hero even as he embodies it.
Headhunters has plenty of the good stuff—sex, violence, Nikolaj Coster-Waldau and a gripping plot with twists and turns that go on for days. It also has its flaws. Like a horror movie, many of the thrills are cheap and a bit excessive, especially gratuitous with such a good plot in play. Nonetheless, even the cheap thrills are entertaining, and Tyldum is a more than capable director from whom we can expect more good and gruesome things in the future.
Director: Morten Tyldum
Writer: Lars Gudmestad, Ulf Ryberg, Jo Nesbø
Starring: Aksel Hennie, Nikolaj Coster-Waldau, Synnøve Macody Lund
Release Date: Apr. 27, 2012
Others Tagged With