Ane Brun: It All Starts With One
[Balloon Ranger Recordings]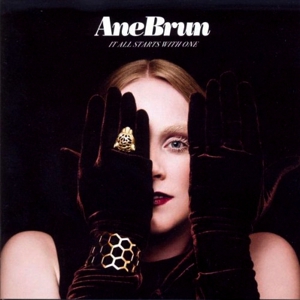 I first encountered Norwegian singer/songwriter Ane Brun on art-rock master Peter Gabriel's orchestral New Blood tour. While I was slightly put off by her contributions to Gabriel's massive tunes (Brun's quivery, operatic voice felt odd replacing the subtly ethereal Kate Bush vocal on duet "Don't Give Up"), I was intrigued by her opening slot—a brief yet sultry tease in which Brun wowed a jaw-dropped Chicago stadium, beating out time on an acoustic guitar, her singular voice soaring to the rafters.
There was something visceral and haunting about her live presentation—something old-fashioned and mystical, as if Brun accidentally time-traveled onto the stage from another century. It All Starts with One, Brun's fourth studio album, is a different beast entirely—at times exploding with dense overdubbed layers: strings, oceanic pianos, earth-rattling tom-toms, wall-to-wall vocal harmonies. But in spite of the added muscle, One is an incredibly intimate affair: Even on the epic sorta-title-track "One," where a gutteral cello murmurs ominously over piano and pounding percussion, Brun's fragile voice is front and center, whispering its mysteries right in your ear.
One can be a grower: The sleepy and skippable "Worship" (featuring an obtrusive duet vocal from Jose Gonzalez) finds Brun approaching a more accessible vocal territory—one annoyingly reminiscent of Feist. But it's a mostly stellar experience: "What's Happening With You and Him" and "Words" are standout vocal showcases with tasteful, slow-building arrangements that wring every ounce of drama from every vocal echo and piano plink. "These Days" is a sultry blur of hi-hat and organ, Brun floating in and out of the swirl like a heartsick ghost.
Others Tagged With