Parks and Recreation: "Tour Bus" (2.21)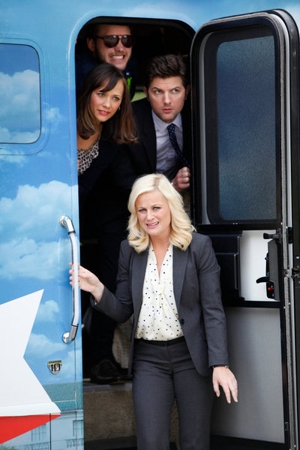 Situated between last week's debate between Leslie Knope and Bobby Newport and next week's climactic finale, "Bus Tour" is a little bit of a disappointment—not because it's a terrible episode, but the show's excitement and stakes have been building all season, making the episode feel like an unnecessary speedbump. Not that there shouldn't be something to space out the time between the debate and the campaign results, but "Bus Tour" just didn't feel like a natural part of the campaign story the way the rest of the show's episodes have. While it wasn't filler, it also didn't feel as fully considered as the show usually does.
"Bus Tour" takes place during the final 24 hours before Pawnee citizens cast their ballots, and surprisingly few minutes of the episode actually take place on the bus. Leslie and her supporters are going venue to venue offering speeches and t-shirts to anyone who will listen, but immediately after one of her speeches bashing Bobby's dad, the media shows up and informs her that he's died. A few quick, poorly thought up and out of context comments later and it looks like Leslie may have ended her campaign right at the victory lap.
There is some realism here, in that these sort of last second scandals do occur in political campaigns, and their overblown nature does has a palpable effect on American politics. However, that doesn't keep the episode from feeling manipulative and strange. There was no reason for this last second complication, which doesn't feel particularly revealing about Leslie or Bobby. All it does is adds a bit of false tension to an actually tense situation.
The secondary story in "Bus Tour" is spent negotiating for a fleet of vans to help campaign for Leslie on the last leg of the tour, but this is even more of a non-starter. The half of the cast not on the actual tour rented vans that the Newports then spent a fortune convincing the van owner not send out. Despite Ron's willingness to pay even more for them, the van owner is completely intractable. The argument between the group and the van owner is entertaining, largely because the owner is an immediately well-developed character, but this can't save the plot from feeling completely unnecessary. It basically doesn't seem like the vans matter given that Leslie's part of the campaign seems to be what's important, plus we'd never heard of these supposedly vital vans until moments before there's a problem with them.
"Tour Bus" wasn't a bad episode. At this point Parks and Recreation may be the most consistently good comedy on television, and the show hasn't had a truly bad episode in ages. Every actor in its large ensemble did an excellent job, plus, we saw the return of Burt Macklin, Andy's FBI alter-ego, which is always a good thing. But there was nothing essentially new to the episode, and it was a disappointment by simply failing to attain the show's usual greatness.
Stray observations:
•"People say they care about the issues. But at the end of the day, all anyone really wants is free clothing shot at them with a cannon."
•"I… sad."
•I kind of want to eat a yogurt platinum. I know it will be awful, but still.
•"Quit ducking the waffle question."
•"Now I get it: your mom and my dad are both dicks." – Close enough.
Others Tagged With