Squarepusher: Ufabulum
[Warp]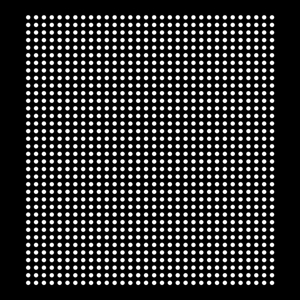 Ufabulum abandons Squarepusher's usual 1 : 1 ratio of electronic : jazz in favor of 1 : 1, electronic : space adventure. I cannot find in any press release or quote anywhere confirming that Tom Jenkinson aimed for Ufabulum to listen as a concept album, but I'm convinced. It is definitely a narrative taking place on some planet where the rain is actually ripe, red laser beams and cake happens for most meals and that's OK. A planet that sounds pretty fun, actually.
The first cut, "4001," winds up the opening pitch for an overhyped pinball tournament. The competition on this sweet-tooth terrain introduces the drama for the entire album, all revolving around our protagonist, this game and a girl. Although the tack gets a little too DDR at times, the typhoon of synth gives it a swallowable glaze.
Bass booms an ellipsis to casually cap off broken sentences, blips and seductive synths on the epic "Unreal Square." Puttering pops build up to a breaking point about halfway through, surging into a volcanic frenzy. It's like Our Hero's Saturday Night Live sidewalk strut montage. The paragraph of weird washes on for a solid five minutes before hydroplaning to a frenzied stop.
"Stadium Ice" smooths things out, three tracks deep. Perhaps this is the guy-meets-girl moment, when Our Hero meets his princess, The Girl. And if that's true, the following "Energy Wizard" is their first dance.
"Red in Blue" summons the villain's introduction and conflict. The low, creeping keys paint a real sinister fellow, perhaps with a dragging, tattered crimson cape. This is the dude Our Hero must beat in the final show-down. It's not pinball. It's drag racing. And it's clear The Villian's also got the hots for The Girl.
The first 10 seconds of "The Metallurgist" is enough to get your skin crawling. Monty and The Villian have themselves a little staredown. Cue the gearing up for battle.
"Dark Steering" starts the intergalactic drag race. The course is lain with a variety of pixelated obstacles. You can hear the engines whir in fabulous frustration as a rain of space gunfire rains down. Jenkinson's famous bass wails and you remember, "Oh yeah, this is a Squarepusher record." But as the nearly seven-minute track careens to a halt, you wonder if it was Our Hero or The Villian whose ride got derailed and you're back into the plot. Part II of this race, as things settle, everyone has all his tires again, "303 Scopem Hard" pushes the race to a close. Someone throws a spacey grenade. A close-up of The Girl's glassy eyes appears on the Megatron. It's not looking good for Our Hero.
But, hark! "Ecstatic Shock" surfaces from the opaque smoke and so does Our Hero. He defeated The Villian, won over The Girl and somehow saved the universe. Whoops, did I forget to mention that part of the story? Anyway, everything ends in a classically courageous way, Our Hero sucking face with The Girl through a screen of celestial, celebratory confetti.
Others Tagged With