The Killing Review: "72 Hours" (Episode 2.10)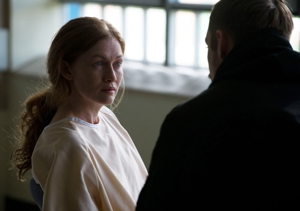 Perhaps Terry's question about what will happen if the cops never find who killed Rosie Larsen was simply just a way to drive Stan to reevaluate his life, but what if this becomes a case that never gets solved? What if the writers make the case go cold to make the audience feel like a detective that continued to chase ghosts?
Last week's episode looked as if we were inching closer and closer, and then smack (literally)—we've taken a few steps back as Linden is admitted to a psychiatric ward for 72 hours, which also happens to be the title of this week's episode.
The entire episode focuses heavily on the state of mind of all of the characters. This reoccurring theme has built over the past handful of episodes and has been present since the show's debut last year. The Killing is so much more than solving a murder; it's about the toll a teenager's death takes on the people involved. While this episode may not propel the case forward, it launches the psyches of Stan Larsen, Darren Richmond and even the minor characters leaps ahead. But this is undeniably Linden's episode.
Her relationship with Holder has rebounded tremendously since his slip-up with the tollbooth photo, as proven by his determination to free her from the hospital. The dyanamic between the two has built into one of the best duos on television today. Linden and Holder started as a bit of a cliché—an established detective about to quit the force for a better life being paired with a young wildcard with something to prove—but they are considerably more complex than that. Linden has been at wit's end, and Holden has stopped trying to make a name for himself and realized that solving the case is worth more than getting recognition.
Once again Stan had another bone-chilling moment. After last week's confrontation with his son, we find him sitting alone in the dark listening to his deceased daughter's voicemail. Instead of hanging up he tearfully leaves her a message saying that though he wasn't her biological father that she was always the best thing about him.
A major linchpin in the series comes in the opening moments in "72 Hours" when Holder informs the lieutenant that the Larsen case files were missing and that he might have put his trust in the wrong circle. Holder later reiterates this after he realizes "all of the major players" were involved with a petty ex-con breaking into a construction site the same night Rosie was killed. While Lt. Oakes has been an adversary of Linden and Holder's this entire run, he might play a vital role in finding the final pieces of this puzzle.
To be honest, I would feel sort of cheated if all of these pieces fall into place and Rosie was killed because she merely overheard something. I know that the series has been hinting at a larger picture for the motive behind the murder, but I suppose it would have been more of a payoff if Rosie Larsen was more vital to the conspiracy instead of just being in the wrong place at the wrong time.
There's three episodes left until the Larsen case is solved, but it's already been implied by the creators that all of these events are bigger than Rosie and that she just might have been the beginning.
Others Tagged With