Twin Shadow Announces Sophomore Album Details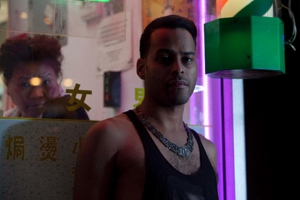 We recently brought you Twin Shadow's remix of Neon Indian's "Hex Girlfriend." Today, Twin Shadow founder George Lewis Jr. has announced he will release his sophomore album, Confess, on July 10 in the U.S. and July 9 in the U.K. The self-produced record was mixed by Michael H. Brauer, who has worked with Bob Dylan and Paul McCartney.
Lewis states the albums inspiration in a press release: "One winter I crashed my motorcycle with a friend on the back. I shouldn't have been riding that day, but I was young and fearless of the black roads, fast and easy in my ways. As the bike slipped from under us my head filled with words. The slow motion moments of calm just after surprise and just before regret are bliss. I remember in that moment I wanted to say everything to him. How could I say everything in a split second? How could I bury my words in his heart?"
In the hustle of this need for confession, Lewis got a new bike and went to LA to record what is now his second album Confess. Check out the track list for the July release below. The first single from the album, "Five Seconds" can be downloaded here.
Confess Tracklist
1. Golden Light
2. You Call Me On
3. Five Seconds
4. Run My Heart
5. The One
6. Beg For The Night
7. Patient
8. When The Movie's Over
9. I Don't Care
10. Be Mine Tonight (hidden track Mirror In The Dark)
Got news tips for Paste? Email news@pastemagazine.com.
Others Tagged With