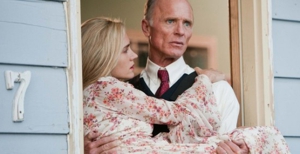 With a cool name like Dustin Lance Black, it's not surprising to find out he was raised in the South. Fresh off of two headline-grabbing political biopics in Milk and J. Edgar (with several episodes of HBO's Big Love thrown in), Black takes a trip back home of sorts in Virginia, which mixes some political elements of J.Edgar with the near-obscene family dynamic of Big Love. Unlike most hybrids, Virginia doesn't get much mileage from the mix in its tank.
In the fictional small beach town of Oceana, Va., small-town folk seem concerned about their fellow man, but not all is what it seems. Virginia (Jennifer Connelly) is in a constant state of want. The chain-smoking single mom wants what's best for her son Emmett (Harrison Gilbertson). She wants a stable relationship with the married town sheriff, Dick Tipton (Ed Harris), a devout Mormon with political aspirations, and lastly, and unknown to most, she wants the pain in her lungs to stop (though not enough to obey doctor's orders).
Virginia isn't just some quirky mom; she's a functional schizophrenic who is only a threat to herself. Her willing sexuality is almost like a childlike caricature drawn by Tennessee Williams. The dysfunctional family dynamic takes a turn when Dick decides to separate from Virginia to pursue a Senate run. Meanwhile, Emmett pursues Dick's daughter Jessie (Emma Roberts), who may or may not be his half-sister. Politics, mental and physical illness and forbidden romances all converge in Virginia, and that's sort of the problem.
Virginia shotguns so many elements onto the screen that it's difficult to know which to follow, cheer for or hate. Everyone is engaged in their own form of martyrdom that's dipped in narcissism. As the girl-child who fades in and out of adulthood, Connelly is appealing, but the closer one gets, the less the character makes sense. It doesn't help that Virginia attempts to condense the drama of a season's worth of episodes on Wisteria Lane into a few hours without letting the audience know what side of the street to walk on.
Having every quirky southern character this side of Harper Valley doesn't help. There's the cross-dressing Ferris wheel owner Max (Toby Jones), whose eyes wander from the phallic to the political; Emmitt's simpleminded pal, Dale (Paul Walter Hauser); Tipton's emotionally subdued wife (Amy Madigan); and other characters who seem to exist just to prove that they, like the good sheriff, all have secrets to hide. All of the actors hit their marks, with Connelly's performance being outstanding. Whether she's a girl trapped in the body of a woman with kinky tendencies or in the role of a somewhat belatedly protective mother, she's likely the only character the viewer may care about.
Virginia is loosely based on Black's own southern upbringing, and while it's good to write what you know, it's also good to know when to pull back on the reins. Black is a brilliant writer, but in this case, he may have been too close to the material.
In a movie focusing on complex relationships, it's too bad that Virginia doesn't provide characters one can invest in, and care about, through to the end credits.
Director: Dustin Lance Black
Writer: Dustin Lance Black
Starring: Jennifer Connelly, Ed Harris, Emma Roberts
Release Date: May 18, 2012 (limited)
Others Tagged With