Watch Sondre Lerche's Norwegian Rap Video
Collaboration Features Lerche's Cousin, Lars Vaular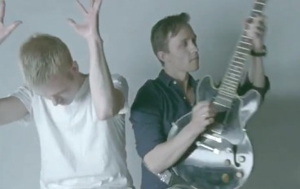 Earlier this morning, Norwegian singer/songwriter Sondre Lerche tweeted a link to the official video for his new song, "Øynene Lukket (Eyes Closed)." The track is a collaboration with his cousin Lars Vaular—an acclaimed Norwegian poet and rapper in his own right—and features Lerche's guitar work, Dave "Herremannen" Heilman's percussion skills and Vaular's rhythmic rhymes.
While non-Nowegian-speaking fans won't be able to understand "Øynene Lukket (Eyes Closed)" at all, the track totally grooves and Lerche's harmonies during the chorus add a nice pop element. And the video, which starts as a simple affair with both Lerche and Vaular jamming in front of a plain backdrop, concludes with a wild solo, dance troupe, horses and confetti.
Check out "Øynene Lukket (Eyes Closed)" below.
Got news tips for Paste? Email news@pastemagazine.com.
Others Tagged With