Workaholics Review: "The Business Trip" (Episode 3.01)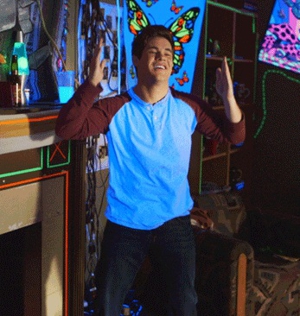 After weeks of anticipation built around tweeting "#tightbutthole" the return of Workaholics didn't fail to bring the weird. It only took 15 seconds for Blake to scream 'fuck' and for a bag of LSD to get pulled out.
The thing that works so well with this show is that the majority of "The Business Trip"—and all other episodes for that matter—is nothing but hilarious one-liners. So many new comedies fail trying to focus on making jokes as funny as possible instead of creating a substantial story. It's clear Workaholics doesn't care about playing by the rules. Instead Blake Anderson, Adam DeVine, Anders Holm and the rest of the crew simply write a series of jokes they probably said in real life and work a plot around it.
Season three's premiere revolves around Blake and Adam's burning desire to drop acid, while Ders gets invited to a business trip. He heads up with Alice, but his two friends arrive to his hotel room before them. How? They rhetorically ask him, but they don't care. And neither should you.
Then what exactly should you care about while watching this stoner-slacker comedy? The jokes.
This review, as well as the episodes put forward by the team, couldn't be clearer: the show will be as good as the jokes. You'll have to shake off how absurd each plot is and focus on the dialogue. Like when Blake warns everybody that the house is acid safe, but the world is where aciddents happen. Or when being on acid is described as having sex with the Drive soundtrack. Not to it. With it. All of this is followed by Alice eating the counter made out of Jell-o and Adam praying to/hitting on God. They happen within seconds of each other and prove how packed the third season premiere is with laugh-out-loud moments
This season's 20-episode order matches the amount spread over the first two seasons, and if "The Business Trip" is any indication of how creative the writers are going to get, there shouldn't be any worry about the lack of material. It sure seemed like a lot happened thanks to the abundance of jokes, even though nothing really did.
The episode could be summed up in one quote: "What do you boys know about a little butt fun? Nothing!"
It doesn't make sense out of context, but you will be rolling when you hear it in the episode.
Others Tagged With