Amanda Palmer Names New Album Theater is Evil
It's been a milestone month for Amanda Palmer after hitting the $1 million mark for her massive Kickstarter campaign. The campaign will fund her forthcoming album—a collaboration with The Grand Theft Orchestra, which includes Michael McQuilken, Chad Raines, and Jherek Bischoff—and the touring and promotion that will follow its release. The campaign wrapped up yesterday, which ultimately raised a whopping $1,192,793 from supportive fans.
While few details have been provided about the album itself, Palmer shed a little light on the album shortly after her Kickstarter campaign ended, revealing the title Theater is Evil. Palmer's publicist later confirmed the title.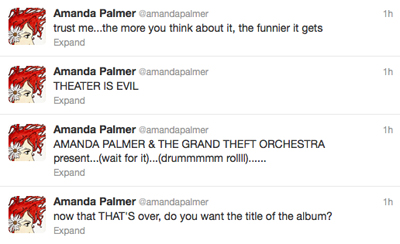 When we spoke with Palmer about the album's release, she had 16 days left in her Kickstarter campaign, with nearly $670,000 raised. Palmer hasn't been quiet about her feelings toward record label ties in the past, and the campaign would allow her to create the album and tour on her own terms. The album is Palmer's first since parting with her major label four years ago.
"To be totally honest: we set $100,000 as our "goal" but we expected to hit it and go way over," Palmer said. "But since you don't get funded if you don't hit your goal, there was no need to endanger ourselves by setting a realistic goal. When I line-budgeted our year, I think I put $480,000 as a 'hopeful' Kickstarter fund. So we've clearly beat that, and it makes me really fucking happy."
You can check out our full interview with Palmer here and watch her Kickstarter video below.
Got news tips for Paste? Email news@pastemagazine.com.
Others Tagged With