Catching Up With Crocodiles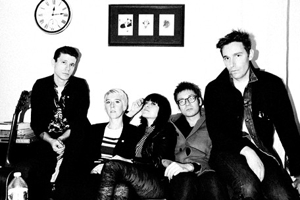 San Diego rockers Crocodiles released their third full-length album, Endless Flowers, last Tuesday. The band's first two records, 2009's Summer of Hate and 2010's Sleep Forever, were characterized by psychedelic fuzz, disaffected lyrics and the droning vocals of Brandon Welchez.
Though Endless Flowers doesn't let up in these departments, it is a more lush and diverse record, partly due to the fact that for the first time, Welchez and fellow songwriter Charles Rowell brought their full touring band into the studio. The new album, which Welchez and Rowell self-produced, was also recorded in artist-friendly Berlin, making it their most free-flowing record yet, and serving to provide a more accurate representation of Crocodiles' incredibly raucous live performances. We recently caught up with guitarist Charles Rowell before a show in London to discuss playing music in Europe, hitting a mainline of creativity and the story behind the album's striking cover art.
Paste: You guys have spent a lot of time touring and recording in Europe recently. What would you say are the biggest differences between being musicians over there versus in the U.S.?
Charles Rowell: It's a bit harsh to say, but I do feel like you're appreciated more if you're an artist or musician in Europe. You get treated better, specifically at shows and by promoters. There are a lot of great venues in the states and a lot of great people supporting musicians who put on great gigs and look out for you, but moreso in Europe. They just care a little bit more. It depends, of course. Some places are better than others as far as the lengths they'll go to ensure you're having a good time. But for us personally, as a band, we have a bigger following in Europe.
Paste: You recorded Endless Flowers in Berlin. What drew you to there, in particular?
Rowell: It's a really free place. You hardly see police around and there isn't really much authority there to stifle you. In general, the vibe is really free. It's a really picturesque city. There are a lot of artists there, so everyone has an understanding of that kind of life. The vibe is really mellow. It's really cheap. It's a place where you can go and really concentrate on being an artist and not feel like there's any sort of pressure from anyone.
Paste: What kind of music city is it? I know the Brian Jonestown Massacre are over there. Do you guys know them at all?
Rowell: No, I mean, we were told by bartenders and friends that they were hanging out. But we never saw them or anything. Berlin is one of those places, though, where you can exist and not run into anyone, which is kind of cool when you're trying to record an album and concentrate and really get into that sort of mindset.
Paste: Endless Flowers sounds much more fleshed-out and multi-dimensional than your last two records. What do you feel are the biggest differences?
Rowell: We recorded it with our live band, so it generally has a freewheeling, energetic, live feeling to it. At times it is a bit unhinged, but that was natural and the way we wanted it to be. We couldn't really do anything like that before because it was just Brandon and I recording.
Paste: How was it then, working with the band? Was it easy for you and Brandon to communicate how you were envisioning the songs? What kind of role did they play in shaping the finished product?
Rowell: We showed them the songs, and it was nice because normally it's just Brandon and I with our guitars, or us playing the keyboard…it was very fractured. Now we could play a song with a full band, hear it as we wrote it, and then kind of change it around and work on the composition right there, with the band. And they were willing to do that completely. They're our friends, so they're really happy to do that. It changed a bit, and they had small little pieces of criticism here and there, but it was really friendly. It was really good having them around. There's no better judge than your peers and your friends.
Paste: Are there any songs or particular elements of the new album that you guys are especially proud of? Maybe that you feel came about specifically as a result of the new recording process?
Rowell: Overall, I think the feeling of it definitely came from living in Berlin. People ask us to articulate that, but it's difficult. I think if we recorded the album in New York the album would sound different. We were using all this German equipment. We wrote a couple of songs in Berlin, and they came out the way they did because we were there.
Paste: It's just going to be unique to whatever city you're recording in…
Rowell: Definitely, yeah.
Paste: So what's the story behind the album art? I don't know why, but it seems oddly fitting. Who conceived that idea?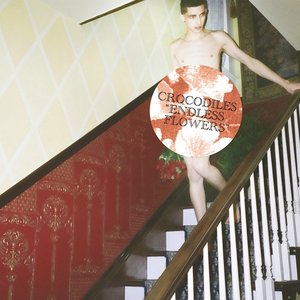 Rowell: We did. We had the songs, and it's a poetic album. We don't conceptualize our records. We just write our lyrics. We write poems, we write songs together, Brandon and I, and it comes together however it is. It's a lot more honest this time around and I feel like the songwriting is a little more naked and exposed. These aren't things we really discussed, but we just knew we wanted a very honest and naked photo on the cover. We thought about having a woman or a girl, but knew that that wouldn't represent us. It wouldn't represent the themes we were feeling and wanted to express. So it had to be a very formal looking, emotionally drained boy. I think it could be sleazy, which fits some of the songs. It could be really emotionally heavy, which fits with some of the songs. It just fit.
Paste: Have you guys already started writing more material? What does the future look like in terms of recording?
Rowell: Yeah, we've already started writing [the next album] and we know where we're going to record it. We've really accelerated our creativity with this record. I feel like we hit a mainline, so to speak, and it burst open. Now we're writing songs, we know where we're going to record. We're already looking at studios and we're feeling really good.
Paste: So do you think you'll self-produce the next album, as well?
Rowell: I think so, yeah. We asked James Ford to do this one, but he was busy. We'll never rule out working with a producer, but it is a good thing so that we don't fall into being one of those bands that needs a producer to make up what we can't do. It was a good test, though, and we'll see if we get a producer or not, but probably not. I don't know, though, we're open to anything.
Paste: One last thing: Which San Diego bands did you guys grow up idolizing?
Rowell: The Zeros. Antioch Arrow. The Rapture were from San Diego at one point. I remember seeing them at their gigs when they were playing to 25 kids, and they were a big influence back in the early '00s or late '90s. There are a few others, but definitely The Zeros and Antioch Arrow.
Others Tagged With