Catching Up With The Mynabirds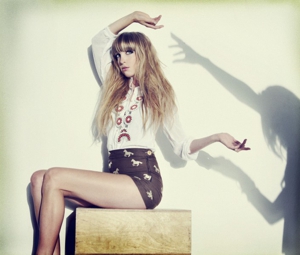 In 2009, former Georgie James frontwoman Laura Burhenn decided to take a more timeless and heart-felt approach to songwriting. She formed The Mynabirds and hooked up with producer Richard Swift to record What We Lose in the Fire, We Gain in the Flood, a gorgeous album of soaring folk songs dealing with loss and recovery. The album was widely acclaimed, but Burhenn decided to take her music in a new direction yet again for The Mynabirds' sophomore album, Generals, which was released today on Saddle Creek.
While What We Lose in the Fire, We Gain in the Flood dealt with broader, more universal themes, Generals is an urgent, more heavy handed album that touches on politically-rooted issues. It is just as heart-felt as its predecessor, however, and as Burhenn notes, it's a record that you can dance to and feel good about. We recently caught up with Burhenn to discuss how she came to write Generals, some of her musical influences and life in Omaha.
Paste: Your new album, Generals, sounds a lot different from your Mynabirds debut. Seeing as how successful your first album was, what prompted you to go in this new direction?
Laura Burhenn: I'm really proud of the last record I made. I wanted to make a record that felt familiar and that felt old and that sounded like it had existed for decades and was just stumbled upon. In that sense, I'm really proud that I think I succeed at that, and also proud that people liked it. For the new record, I'm talking about revolution and war and welcoming in a new age, a new era, and so it didn't seem like I could make the same record dealing with those sorts of subjects. And, also, I always get antsy musically. I'm always interested in hurling into the next phase.
Paste: Would you call Generals a political album, then?
Burhenn: It's a concept record and it deals with politics. Part of me wanted to re-imagine and re-work the protest songs, and so it is political in that sense. On the other hand, I don't want "political" to be off-putting, because a lot of people are sick of politics, which I absolutely understand and can relate to. And that's part of what I was thinking about, which is just being so frustrated at the whole mess. In the end, the record is really about our relationships with one another, dealing with the global scale, but played out on a person-to-person basis.
Paste: Have you thought of how some of your fans who only know you from your last album, which like you said, was kind of timeless and not very political at all, are going to react to some of the more politically-charged songs on Generals?
Burhenn: No, I haven't. I hope that people are excited. In the conversations I've had with people over the past couple years, this subject comes up a lot and on every side of the political spectrum. It's something where I think people look around they're just so frustrated with what's happening in their communities and in America and in the world. People feel a sense of hopelessness, and helplessness, too, I think. So I think it's very much a universal conversation that's happening, and I wanted to give voice to that. Where in the last record I was talking about loss and recovery, I think this record is very much about staring in this place of frustration and anger and hopelessness, and then working your way out. Toward the end in the song "Buffalo Flower" I sing, "I'm going to do what I can, right where I stand." It's meant to be a work of empowerment. That can be personal or political. It can work a large or a small scale.
Paste: Have you been wanting to write a record like this for a while, or is it something you were only inspired to do after you do after you finished your last album?
Burhenn: Actually, it's funny because this album is what I started to write before What We Lose in the Fire We Gain in the Flood. There are a lot of song lyrics that even date back to right after 9/11. Some of the songs I had sung solo during the Georgie James years and after that. It just wasn't the right time to make that record a few years ago. A friend of mine said to me, "These are good songs, but they don't have any heart." I think I was trying to write them from an almost clinical perspective. So then I wrote the last record, which is all heart. I think it helped me to come back and write this record in a way that is personal. You don't want things to be too heady or too clinical. It's still about our human connection and experience.
Paste: Did this record come more naturally for you, then? It sounds like you might have had to make more of a conscious effort to write about more timeless and universal themes on your last album.
Burhenn: Yeah, I did, and for this record I feel like there was a similar arc in creating the story, and there's definitely a story in this record. When I was writing it I had a few songs I knew I wanted to be a part of the storyline of the album. As I was finishing it I realized I was asking this question of "What can we do? What can I do as a single human being in the face of so much atrocity around the world? So much discord, even in my own community?" I really started thinking about the fact that I wanted it to go somewhere. I didn't just want to write an album of protest songs. I needed to channel my energy into something positive. So in that sense, I kind of figured out the missing pieces. And like I said, I wanted to make sure it was a personal record. Right in the middle, the song "Mightier Than the Sword" divides the record. At the end of disaster, there's a bell that sounds and I feel like it clears the air. It's a pivotal point in the whole story. Some of the songs toward the end were written later. "Disarmed" I wrote in the studio, and I knew that I wanted the second half of the record to feel really upbeat and uplifting.
Paste: You've said that Neil Young was a big inspiration for What We Lose in the Fire We Gain in the Flood. Were there any artists, musically or otherwise, that you feel like you were particularly trying to channel when you were writing Generals?
Burhenn: Absolutely. I think for the last record I also cited Nina Simone. She's been a huge influence on me my entire life. On this record I was thinking of some of her more political songs that are really emotional. Some of her songs she wrote during the civil rights movement are powerful. Some of them are angry and some of them, like her cover of "Strange Fruit," are heartbreaking and so poignant. And I was trying to think of some of the music I first fell in love with. PJ Harvey is definitely one of those artists. She wrote a lot of songs like "Dress" or "Man-Size" or "Sheela-Na-Gig" that are very feminist. They are really intelligent, well-written songs, but at the same time they're just super fun. So, I wanted the songs [on Generals] to work on all levels. I think you can listen to the new record and just kind of dance. I wanted people to dance and for it to feel good, but at the same time, underneath, for the songs to have many layers.
Paste: In between records you toured as a member of Conor Oberst's band. What was experience like? He's been on the road for so long, I bet there was a lot to learn from him.
Burhenn: Yeah, it was really amazing. I love Conor and Mike [Mogis] and Nate [Walcott] and everybody who is involved in the band and making that production happen. It's an incredible family and it was really amazing for me to witness how near and dear people hold Conor and his songs. To just be reminded how powerful words and music can be, and how important it still is was really inspiring. It could be easy for someone to say "Oh, Laura went on tour with Conor and wrote this political record," and attribute it to that. That's not 100 percent true, but on one hand it was really amazing to watch him connect with his audience on this level of "Yes, we're here to have fun, we're here to enjoy ourselves. But at the same time there's a lot of other heavy stuff we need to be awake to and do what we can."
Paste: You've been living in Omaha for a while. How do you like it there? Can you convince me that it's not boring?
Burhenn: [laughs] I absolutely can! I really love it here. There's an amazing community of artists and musicians who are really supportive of one another. People are willing to take risks artistically, and there's a whole community of people willing to support that attitude. It's not quite as competitive as bigger cities and it's great because it's affordable, so I can afford to focus on my art as opposed to having to work a day job for 60 hours a week in order to pay my rent. There's nothing wrong with that, but it's a nice change. But Omaha is great. Saddle Creek is here, and there are other smaller labels. I think it's an interesting time. There's kind of a rebirth happening here. There was Conor and The Faint and Cursive, which are still going strong, but I think that's sort of what Omaha was known for. Now I think it's welcoming a new age, which is exciting.
Generals was released today, June 5, on Saddle Creek Records. For more info and to take a look at The Mynabirds' summer tour schedule, visit their website here. You can watch the trailer for Generals below:
Others Tagged With