Comedy Bang! Bang! Review: "Zach Galifianakis Wears a Blue Jacket & Red Socks" (Episode 1.01)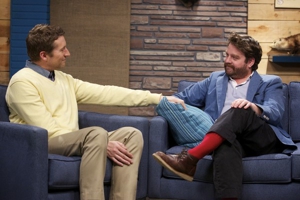 For those unaware of what exactly Comedy Bang! Bang! is, here's a quick rundown of the various iterations of what this show has grown to become. Comedy Bang! Bang! started off as a show at the Upright Citizens Brigade theater, where it was originally known as "Comedy Death Ray," created by Scott Aukerman, writer for Mr. Show. The show eventually became a radio program, then a popular comedy podcast and eventually changed its name.
The premise of the Comedy Bang! Bang! TV show is essentially that of a typical talk show. Aukerman invites guests on, has a bandleader (Reggie Watts, who also does the theme song to the podcast) and to a certain extent, does interviews. However, anyone who has seen Between Two Ferns, the Funny or Die shorts starring Zach Galifianakis that Aukerman also directs, knows that an Aukerman show is very different than a usual interview show. Add to that Comedy Bang! Bang!'s open-door policy which allows all sorts of unusual and downright weird characters to walk in at any time unannounced, the show is clearly odd, but in the best way possible.
As a fan of the podcast for two years (as you can see here), I was delighted to find out that IFC was bringing Aukerman and company to their channel, but I also had some trepidation. The podcast relies entirely on interviews, odd tangents and ridiculous games (for example, "Jukebox Jury" allows its guests to listen to horrible songs and rate them either "mustard" or "pants"), and by taking all those elements, putting them in a visual medium and on top of all that, shortening the program to a fourth of its original length, the TV show had me worried. But Aukerman perfectly blends the podcast's humor with visual gags that accentuate that style wonderfully.
It is rather fitting that the pilot episode's guest is Galifianakis, who is introduced as being the latest, and heaviest, in a group of heavier comedians that includes Chris Farley and Fat Albert, and is forced to imagine, unsuccessfully, what it would be like if a dog could talk. Soon after, the show receives its first character, Danny Mahoney (played by Andy Daly), who has started a business in which he will arrive at your party with CD/cassette boombox in hand and a sack of somewhat-used D batteries to become the life of the party. Will Forte's Chet Barnsider, a pilot who landed an empty plane at a mall because he was following his ex too closely in her car, follows Danny. This is all complete with wine suggestions to watch the show with by Thomas Lennon's Guy, who gets almost immediately drunk off the wine he brought and from drinking from his family's spit bucket. It all may seem very surreal, but in the universe of Comedy Bang! Bang!, it makes complete sense.
Thankfully the show, like the podcast, seems to have a basic idea of where it is going and through improvisation almost always gets to a hilarious and rewarding point. Daly and Lennon have both worked with the podcast since the beginning, yet bring new characters that would most likely work terribly on the podcast without the visual element. Allowing these incredible improv-ers in on the first episode showcases the kind of freeform comedy that viewers of the show can expect, one that leaves Galifianakis to sit back and watch, laughing to the point of tears.
Of course not everything works, such as a quick skit where Aukerman must go feed his car's meter and encounters a post-apocalyptic world involving lasers and Gillian Jacobs pleading for help, but it doesn't overstay its welcome.
In a television schedule filled with parodies from NTST: SD: SUV to Community poking fun of everything from Law & Order to The Office, Comedy Bang! Bang! fits right in. Aukerman's brand of off-kilter yet brilliant humor translates to the small screen much better than expected, setting itself apart from the podcast while also being a great treasure for longtime fans.
Others Tagged With