Our Seven Favorite Movies at the 2012 Rooftop Film Festival
Summer officially started this week, so if you live in New York, what better way to celebrate than by checking out some of the offerings of the annual Rooftop Film Festival? Somewhere between a film festival and a film series, it's one of the best curated selections of cinematic art, year after year. Here are our seven favorites from this year's offerings; check out complete schedules here.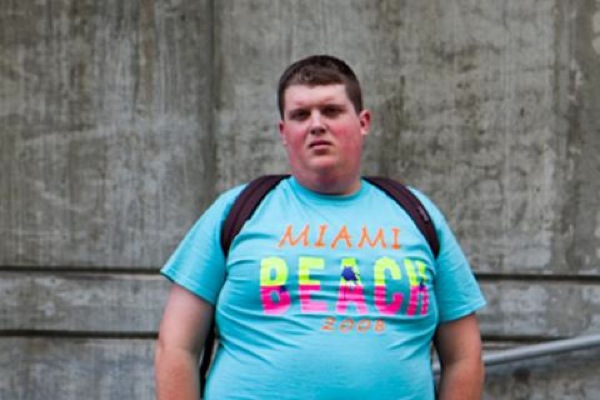 Fat Kid Rules The World
As an actor, until recently it could be difficult to take Matthew Lillard too seriously—not because he can't act (he can), but because of some of his movie choices (think Scooby Doo). As a director, though, Lillard demands that we take him seriously—and we should. Emerging straight from his heart, Fat Kid Rules the World proves to be a warm and sincere directorial debut with a winning punk rock attitude. Jacob Wysocki, who shined brightly in last year's Terri, anchors the film as Troy, a depressed and overweight high-school misfit who wants to die. In the opening sequence, he proceeds to step in front of oncoming bus to end his life, only to be saved by Marcus (Matt O'Leary), a drug addicted punker with problems of his own. In the wake of the incident, the two form an unlikely relationship that compels Troy to start playing drums in hopes of forming a new punk rock band and, thus, creates hope and change for the dejected teen—and for his family (Billy Campbell plays his stern father). It's John Hughes meets Sid and Nancy, and it just plain works. If Fat Kid Rules The World doesn't move you, you might want to check your pulse. —Michael Dunaway

Her Master's Voice
I would never have expected this to be one of my favorite films of the SXSW festival circuit. After all, in my book ventriloquists fall somewhere between animal acts and dance improv when it comes to entertainment. But this documentary about Nina Conti's rise as one of the world's top ventriloquists and her journey to Venthaven, the resting place for ventriloquists' dummies, is like being on the inside of a Hitchcock film. Conti's exchanges with her wooden friends go beyond entertainment. It's Jungian analysis for all to see. It's one thing when the audience is unsure of where the act is going. But it's quite another when the artist herself makes self discoveries through conversations with her partners. —Tim Basham

The Imposter
It's obvious The Imposter is going to be a thriller, and a thriller it is, and then some. Three years after the disappearance of their thirteen year old son, a Texas family receives word he's been found in Spain. When they go to pick him up, they're so desperate to believe he's alive that they don't even notice that the "boy" is actually a French man in his mid-twenties. Is it a monumental case of grief and hope blinding sense, or is there a darker explanation? Director Bart Layton mixes elements of documentary and narrative filmmaking seamlessly in ways I've never seen done before. And every character he uncovers in the drama is more of a treasure trove than the last. It's one of the most compelling films you'll see all year, in any genre. Truly thrilling._ —Michael Dunaway_

Sun Don't Shine
Amy Seimetz is better known to indie and festival audiences for her work in front of the camera in favorites like The Off Hours and Alexander the Last (and, the oh, 35 other acting roles she's had in her nine year career). But in the last couple of years she's started making a name for herself as a producer, director, and writer as well. Sun Don't Shine is the first feature she's directed, and it's a doozy, an oppressive sun-drenched fever dream of an update (of sorts) of Badlands, set in Florida this time. Kate Lyn Shiel is fascinating in the female lead role, continuing a string of impressive performances. Not to be missed.

The Tsunami and The Cherry Blossom
Like in her previous documentary Waste Land, which was nominated for an Oscar last year, Lucy Walker finds beauty in the most awful (and awe-full) of landscapes. Her prior film profiled artist Vik Muniz and his mosaics crafted from trash found in the world's largest landfill outside Rio de Janeiro. Here, she visits areas of Japan hardest hit by the March 11, 2011, earthquake and tsunami, interviewing survivors just weeks after they've lost their homes and loved ones, piecing together a narrative from their stories rather than imposing a narrator by voiceover or intertitles. It's in these days as well that the cherry blossoms bloom, and against breathtaking visuals of pink petals, Walker explores the significance of the flower to Japanese culture. The moral of the story—the strength and permanence of nature; the rebirth and, with it, hope of spring—is a simple one, and at times it's insisted on a little too tediously, but it's hard to oversell the persistence of both nature's beauty and the human will. —Annlee Ellingson

Think of Me
One of the most difficult films of the year to watch. But a rewarding one. Lauren Ambrose, who is simply always awesome in everything, finally gets a chance to carry a movie, and she does so with aplomb as a single mother who can't quite get her life together. For an actor like Ambrose, who is so charismatic and winsome, to subvert those qualities, as we watch her character make bad and/or selfish decisions over and over, makes for incredibly compelling viewing. —Michael Dunaway

Welcome To Pine Hill
Keith Miller's multiple award winner (full disclosure: I served on the jury at Sarasota that chose him for the Independent Visions award) would be notable for its black protagonist even if it were merely a competent film; indie film just doesn't explore the African American experience often. Fortunately, though, it's a powerfully compelling drama. An opening scene depicts an encounter full of potential menace (a similar encounter actually happened between Miller and star Shannon Harper; it's how they met). But it never boils over into actual violence, and throughout, the film steadfastly refuses to go in the directions you expect it to. Harper's Abu looks like a bit of a thug but is actually an intelligent and competent man, probably a bit too intelligent and competent for the lower middle-class job he's stuck in. When he learns he's contracted inoperable cancer, the feeling of lost potential is potent, and the rest of the film—as he struggles to face his impending death—is powerful. —Michael Dunaway