Peace, Love & Misunderstanding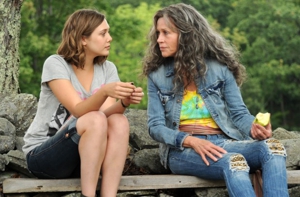 Director Bruce Beresford (Driving Miss Daisy and most recently Mao's Last Dancer) scored a coup by casting Jane Fonda as the boho grandma in the family drama, Peace, Love & Misunderstanding. The iconic Oscar winner retired from film in the '90s and has been selective upon her return. But as felicitous as it might seem to have the infamous political activist play a latter-day hippie, unfortunately her character, Grace, comes off as a caricature in a Halloween costume rather than a fully realized role. That she grows pot, smokes it with her grandkids and entertains lovers isn't nearly as shocking as it should be for an R-rated movie, perhaps because one doesn't buy any of it in the first place.
Catherine Keener fares a bit better as Grace's uptight daughter Diane. A Manhattan lawyer, she flees to Grace's place in Woodstock with her nearly grown children in tow when her husband asks for a divorce, despite the fact that she hasn't spoken to her mother in 20 years. (The reason for their rift, by the way, hardly merits a two-decade estrangement.) There, she falls for local furniture maker Jude (Jeffrey Dean Morgan), and while Christina Mengert and Joseph Muszynski's script has Diane opening up way too quickly about her failed marriage to this stranger, Keener rises above the material, particularly in a sweetly tentative duet of the Band's "The Weight" onstage at a music festival.
Ingenue Elizabeth Olsen, too, transcends her part, infusing warmth and curiosity into Diane's cliché college-age daughter Zoe, a Whitman-quoting vegan who surprises herself by falling for the local butcher, Cole (Chace Crawford). In one of the script's finer moments, he suggests Diane buy lamb chops for dinner. "Could you pick on a more helpless animal?" Zoe says, eyes narrowed. "Can I interest you in some veal?" he replies without missing a beat.
Recording all of this is Zoe's high-school brother Jake (Nat Wolff of TV's The Naked Brothers Band), an aspiring filmmaker of the Werner Herzog persuasion. Wolff, particularly, is unable to surmount a role that relies on the tropes of adolescent angst—shy and awkward, especially around girls—although he experiences a fun transformation in the end.
Fonda, Keener and Olsen compose a dream team of multigenerational talent, but they, and this film, are underserved by characters in need of development and an idea in need of a story.
Director: Bruce Beresford
Writers: Christina Mengert & Joseph Muszynski
Starring: Jane Fonda, Catherine Keener, Jeffery Dean Morgan, Chace Crawford, Elizabeth Olsen
Release Date: June 8, 2012
Others Tagged With