Rhett Miller: The Dreamer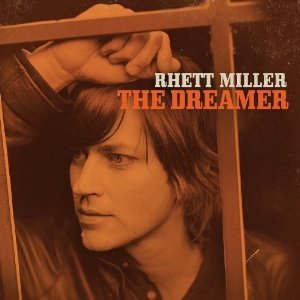 Rhett Miller's solo career actually goes back farther than his nearly two decades as frontman for the Old 97's. The songwriter's 1989 debut Mythologies is a pubescent preamble to Stewart Ransom Miller's future "serial lady killer" status immortalized in the 97's classic "Barrier Reef." It's an unassuming, yet promising, record that has achieved more cult status than being seen as any sort of lost gem.
Another 13 years would pass before Miller released his next solo album The Instigator in 2002. By then Miller was a full-grown ladykiller, a close-up of his pinup mug unabashedly plastered on the cover. The record's contents had also taken on a prettier turn, and it looked as if he had aspirations of abandoning the alt-country landscape for the less dusty trails of VH1. 2006's The Believer followed with a similar pop gloss. It wasn't until his self-titled release in 2009 that Miller really hit his stride as a solo artist, combining the rootsy twang of the Old 97's with precision power pop, while throwing in a few surprises (most notably the excellent "Happy Birthday Don't Die").
Which brings us to The Dreamer (and Miller's proclivity for "The" titles), his first studio album to be released on his own label Maximum Sunshine Records, and the first to be produced by Miller himself. The gloss found on previous releases has given way to a gentle dusting of grit, which is just what this batch of songs calls for. This time around Miller has settled into wispy country rock—there's a timelessness to this collection, and it's easily his best and most consistent solo work to date.
That said, The Dreamer is also an album that calls for multiple spins—it's not likely to grab listeners by the throat, or even kick them in the shins for that matter. It's just good. A big part of that is the return of singer-songwriter Rachael Yamagata, who accompanied
Miller on his 2006 single "Fireflies," and whose go-to vocals have appeared alongside artists like Ryan Adams, Bright Eyes and Ray Lamontagne. Miller also taps The Spring Standards' Heather Robb and country royalty Rosanne Cash to match him almost line for line. Those added vocal layers are effective, too, adding warmth to already comfy tunes.
The gentle instrumentation pairs well with Miller's lyrics, which are less about clever turns of phrase this time around, and more about conveying pure sentiment. Opener "Lost Without You" is another in Miller's collection of sad-sack character studies, with the refrain, "You weren't like the rest till you left" (not to mention my favorite line: "She was glowing like an open sign on a place I'd never tried"). As he's gotten older Miller's voice has also taken on different tonal qualities, which really show themselves on quieter numbers like country shuffler "Sleepwalkin'" and the slow and sad Brit-popper "Complicated Man." And while Miller has made the switch over the years from penning more autobiographical lyrics to yanking quirky (and occasionally deranged) characters out of the woodworks, one can't help but think "Picture This" is more of a personal love note to the idea of growing old with someone. It doesn't get much sweeter.
The Dreamer is Miller's first LP funded with the help of a successful PledgeMusic campaign that earned nearly double its target. That statistic, if you will, illustrates Old 97's fans' loyalty to the band and its prolific frontman. The resulting album—minus labels and other outside influences—shows Miller is less concerned about expanding his audience as he is pleasing the one he's nurtured over the past two decades. More importantly, Miller is doing it for himself.
Others Tagged With