Sundance Institute To Host ShortsLab Workshop in NYC This Weekend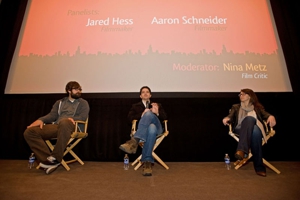 This weekend, New Yorkers will have a chance to experience a little taste of Sundance, without all the snow and traffic issues. The Sundance Institute rolls into the Brooklyn Academy of Music Saturday morning to host another installment of their ShortsLab workshop series. It's open to the public.
This year's workshop boasts a big-name headliner—Paste favorite Brit Marling, co-producer/co-writer/co-star of the sublime Sundance standouts Another Earth and Sound of My Voice (in the same year, no less). The supporting cast is impressive as well, with Anotnio Campos and Sean Durkin (Simon Killer), Nicole Kassell (The Woodsman), and Adepero Oduye (Pariah). The filmmakers will be joined by Sundance Film Festival programmers Lisa Ogdie and Mike Plante. That's networking gold, my friends.
The workshop runs from 10 a.m. to 6:30 p.m. this Saturday, June 16. Tickets and more info at the Sundance site. And for thos ewho prefer their "more info" in video form, we have you covered below. Enjoy.
And go make some art!
Others Tagged With