The Flaming Lips Finishing "Radically Different" Studio Album
Expected Late 2012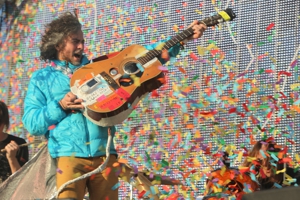 "I want to be doing music like sleepwalking," Flaming Lips frontman Wayne Coyne says on the phone from the kitchen of his Oklahoma City abode.
"I know that sounds horrible to say," he clarifies quickly, "I mean, you wouldn't want to be on an airplane and have the pilot sleepwalking or go to a doctor that's sleepwalking. But for art and music, it's a great way to do things because you don't always want to be so connected into your conscious, reasoning ways."
This is the state of mind in which Coyne says he and Steven Drozd, Michael Ivins, Kliph Scurlock, and Derek Brown created the new Flaming Lips record. This forthcoming LP, the 14th in the band's extensive catalog, is expected to be released on Warner Brothers Records later this year.
While writing and recording the 12 songs that appeared on the seemingly elusive Record Store Day release, The Flaming Lips and Heady Fwends (which will be rereleased on all formats June 26), Coyne and company ended up with enough material to create another whole album. And the still-untitled record represents not only a drastic change in the Lips' collective consciousness, but also their musical style.
While the group's last original studio album, 2009's Embryonic, was "a very sprawling, strange, funky record for the Flaming Lips," Coyne describes the new effort as "radically different than what we had been doing."
He continues, explaining that Embryonic "had a lot of great rhythms and distorted bass parts in it and it was groovy. It wasn't always necessarily song-oriented. And for me personally, I sort of thought that was the way we were going. But in these times that we would not be so aware of what we were doing, we were really making this other kind of music that was really emotional. It's very vulnerable music. And to me, Embryonic isn't vulnerable. Embryonic is a really brash, confident, existential kick in the face. And this music, I thought that we were still very confident and existential, but in this relaxed mode—and when you have to make so much music, sometimes this happens—you really get to know a part of yourself that you could not purposefully expose."
So while collaborations a la Heady Fwends have not yet been confirmed (except for an appearance from Phantogram), Coyne hasn't ruled out any possibilities. He notes, "I think we could easily send some of these mixes to people and say, 'Hey, you wanna sing on this or play on this and make something of it?'"
Regardless, for a band that has evolved from psych-punk rockers to spaced-out superstars (with a fame-gaining fight against the pink robots somewhere in the middle) over the past 29 years, Coyne proclaims that the band still treads new ground on the album. He declares, "I would almost say that I think it could be the greatest Flaming Lips record we've ever made because it's made from some other part of ourselves that we wouldn't have access to if we were trying to get in."
Got news tips for Paste? Email news@pastemagazine.com.
Others Tagged With