Your Sister's Sister: Kinship with a Dose of Hilarity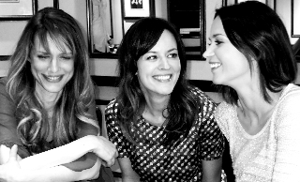 If you are familiar with the critically acclaimed 2009 indie hit Humpday, then filmmaker Lynn Shelton needs no introduction. For Your Sister's Sister, her fourth feature effort as both writer and director, Shelton incorporates the same improvisation-based technique that is a signature of the mumblecore movement, and which subsequently results in a hilarious and thought-provoking triangular relationship with a grieving Jack (Mark Duplass), his best friend, Iris (Emily Blunt), and her lesbian sister, Hannah (Rosemarie DeWitt). After a drunken fling occurs in a remote cabin between Hannah and Jack, and a morning surprise visit from Iris interrupts their hangover, commotion is cued while the trio's individual members battle to conceal their secrets and true feelings, with love being the main instigator at hand.
"I have played a few sisters in my career, and what I'm struck by, because I have half-sisters that I didn't grow up with, is that there always has to be so much love," says DeWitt. "The heart of all these relationships is love. Especially the familial relationships, even if it's someone you think you hate, which is not the case in this movie, there's nothing interesting to the audiences if there's no love. You go home."
In bringing in two seasoned actresses that are used to scripts and structure, Shelton was faced with the obstacle of preparing Blunt and DeWitt for the challenging task of improvisation ahead. "Humpday had two very veteran improvisers who really are at their best doing it, and love doing it, and feel very comfortable doing it," Shelton says, referring to Duplass and Joshua Leonard. "Because I knew the two folks in this film (Blunt and DeWitt) were not that way, were used to working with scripts, I approached the actual document going in differently. Humpday was just an outline, a ten-page description of what was going to happen in each scene, but no dialogue. With this, I actually wrote out words and lines of dialogue. The idea was they were never tied to their lines, but it would give them a jumping off point—a gist of what the scene should be and could be."
Emily Blunt insists Shelton's methodology was the reason she signed on to play Iris in the first place. "The first movie I did was all improvised," she says. "Years had gone by, and I hadn't worked like that since."
"I was desperate to and daunted by the prospect," Blunt continues. "Daunted in a good way. I wanted the challenge and experience more than anything. I quite love the unknown of this job, so when Lynn called and basically said, 'I'm going to kidnap you for two weeks, it's going to be improvised, and this is the premise—are you interested?' I said 'yes' on the phone. I loved Humpday and when watching that movie you can see the benefits of improv—how fresh, exciting and how incredibly human it can be. You're so connected to the film as an audience member. There should be more of those kinds of films out there —I think audiences are wanting that. I think people are crying out for it."
The raw connection between the three actors is undeniable, equivalent to that of their off-screen chemistry with Shelton. Laughter roared throughout the duration our interview, most notably when a soon-to-be-infamous scene was brought up, one where Hannah recounts a time when Iris' boyfriend insisted she trim her pubic hair. "I died!" Blunt shouts. "I actually blushed on camera. This was a story I hadn't heard before she said it on camera. I was mortified! But laughing as well because when I get embarrassed I die laughing. Lynn had come in during a little break from takes and said to Rosemarie, 'Just say something to Emily that will really embarrass her.' I love the dynamic of that dinner scene. Everyone is getting to know each other, and everyone's pushing each others buttons."
In between bursts of giggles, DeWitt reminiscences how the story came to her in the first place. "In this way of working you have to trust your bodily wisdom. I just flashed to literally fifteen years ago to sitting on a beach with some girlfriends I went to high school with and someone was talking about how their boyfriend told her she had to trim her…whatever … and then my other girlfriend—who will remain nameless—goes, 'Wait, you guys trim it!?'" DeWitt chuckles in remembrance. "She never lived it down. For some reason, it popped up in my head, and I thought, 'Thank you universe, or whoever just came up with that.'"
The one missing from our interview is of course the incomparable Mark Duplass, Shelton's key improviser (and an incredibly talented one at that), and the creative mind behind the story's plot. "Mark was the one who brought me the kernel of the story," Shelton acknowledges. "One of my proudest moments was the line, 'Do they have forks? Because I think I might need to stab myself in the face,' because I wrote that (laughs). Most things that comes out of Mark's mouth are all improvised, but he thought that line was good enough."
Your Sister's Sister has made a full round in the festival circuit, playing Sundance, Seattle and Tribeca, to name a few. With independent films such as this, getting the ball rolling before the theatrical release is crucial to its success. "I hope we can get people to see it because the response at festivals has been so incredible. People really seem to like it," says Shelton, who recently wrapped up the ensemble feature Touchy Feely. "It's a matter of can you cut through the noise of all the bigger budget, larger and spectacular films to reach people and lure them in. I'm kind of hoping that word of mouth helps us since that seems to be a big factor these days with tweeting and all that. It might be a matter of finding the right people to tweet." An improvisation novice no longer, DeWitt showcases her knack for off-the-cuff remarks with a tweeting-solution to their box office anxieties: "I'm inviting Kim Kardashian," DeWitt says. Laughter, of course, follows.