Big Day Coming: Yo La Tengo and the Rise of Indie Rock by Jesse Jarnow
They're an American Band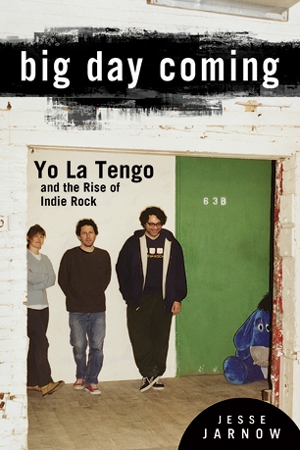 My wife sings, but not in public. At least not beyond karaoke. I can get her to sing a short song that I've written or a cover I'm working on, but she hates recording and she would never get on a stage. Still, I keep asking her to, gently but selfishly trying to force my own musical ambitions upon her.
It's all Yo La Tengo's fault.
I'm just one of a legion of record collector nerds trying to draft their partners into a band after falling in love with Yo La Tengo. The group has existed for almost 30 years, but Ira Kaplan and Georgia Hubley, the band's primary songwriters, have been a couple for even longer. Theirs is an idealized indie-rock marriage, a couple with complementary taste and a deep knowledge of rock 'n roll making a living touring and recording together.
Of course that's not a reason to like a band. The music matters. And since releasing their first album in 1986, Yo La Tengo has been one of the most consistent and stylistically adventurous rock bands in the world. From "timid folk rock" to noisy pop songs to freeform freak-outs, Yo La Tengo has mastered a multitude of musical forms, while also building up a covers repertoire that numbers in the high hundreds. Despite that talent and influence, they still come across as some of the most humble, down-to-earth musicians around … so much so that even a gifted writer might struggle to make a book about them interesting.
In Big Day Coming: Yo La Tengo and the Rise of Indie Rock, Jesse Jarnow, a journalist and occasional Paste contributor, circumvents the band's normalcy by delving into history, both that of band members and of their environment. Jarnow charts how the band and the relationship at its core began. The notoriously private Ira and Georgia largely remain mum about personal matters, but Jarnow gives us a backstory with detailed summaries of their lives before the band.
It's a front-loaded book, tossing out illuminating information at a regular clip in the early chapters before eventually turning into a recitation of facts that diehard Tengo fans probably already know. (That's an understandable outcome when talking about a band for whom success took years to arrive and whose earliest recordings are still often overlooked by fans and critics alike.)
Those early chapters present finely detailed, thoroughly researched histories of baseball, Hoboken, New York Rocker magazine (where Kaplan wrote in the 1970s and early '80s), the '80s college rock scene, and the early lives of Yo La Tengo's three primary members. Each subject fascinates in its own way. Jarnow looks at how a late '70s influx of broke musicians into the blue-collar factory town of Hoboken laid the groundwork for inevitable yuppification, and what that transformation meant to the stalwart bar and rock club Maxwell's, long Yo La Tengo's unofficial home base. Jarnow also directs the spotlight onto other bands from that scene, notably the dB's and the Feelies, whose jangly pop traditionalism informed Yo La Tengo's earliest songs and the nascent world of college radio.
Jarnow tracks how both Kaplan and Hubley wound up in Hoboken, their trajectories bound towards an inevitable collision. When that moment happens, the author pulls back … or more likely his sources clam up. (The two go from friends to an inseparable couple during a trip to London, and from there their relationship becomes a barely discussed fact of life.) Nobody needs to read tabloid gossip about these two, and all should respect their desire for privacy, but some greater insight into their life together, as people and as artists, would make for a more arresting read.
The arrival of James McNew in 1991 solidified the band's line-up—his keen ear and proficiency on various instruments expanded the band's palette. Introducing McNew, Jarnow also briefly examines the Charlottesville, Va., music scene of the late '80s. As with the chapters on Hoboken, this section proves that Jarnow's strength lies in commemorating underexplored artistic communities. While not as celebrated as Hoboken or Athens, Ga., Charlottesville nonetheless gave a home to an array of creative musicians, from the absurd noise comedians in the Happy Flowers to the UVA students who went on to form Pavement and the Silver Jews. Charlottesville stands as a brief but compelling blip in Jarnow's story, and it makes me wonder what the author could do with a book on various indie rock scenes of the 1980s patterned on Michael Azerrad's Our Band Could Be Your Life: Scenes from the American Indie Underground 1981-1991. (Jarnow quotes frequently and distractingly from Azerrad's book.)
With McNew on bass, the band entered its most acclaimed phase, producing all-time classics Painful, Electr-o-Pura and I Can Hear The Heart Beating As One. Hits came throughout the 1990s, and the band grew increasingly more successful. Jarnow talks about the brief window of mainstream viability that opened after Nirvana's eruption in 1991. That impact flamed out fast for the indie rock community but contributed to Yo La Tengo's ability to pursue music as a full-time endeavor. Kaplan discusses business more freely than personal issues, but once the band agrees to work with long-time friend Gerard Cosloy and his Matador label, even the business becomes too well-adjusted to cause excitement. Finally, the facts behind the band's contentious parting from one-time label Alias Records, a long-time source of intrigue for the more shamelessly obsessed fans, remain hidden behind legally mandated silence.
Yo La Tengo maintains a steady album release schedule, putting out a new album roughly every three years, followed by copious touring. Jarnow structures the second half of his book to follow this cycle. It grows a bit repetitive, and Jarnow rarely discloses many facts from this era that fans couldn't already find on the Internet. He recounts the band's increasingly thematic live concepts, from the guest-filled Maxwell's residencies during Hanukkah to the acoustic Q&A of the "Freewheeling Yo La Tengo" tours to the unpredictable "Spinning Wheel" tour, where a spin of a game-show style wheel determines the theme of the night's first set. Jarnow's stories charm, but the book never digs deeper than, say, a Magnet article from 2004.
Jarnow succeeds better in later chapters when he tackles the impact of the Internet on the record business throughout the '00s, as Pitchfork becomes the default voice of authority on indie rock and file-sharing alters the industry's financial reality. This systemic collapse understandably caught Yo La Tengo off-guard. According to Jarnow, they're still confused (but pragmatic) about this new system in which their 2009 album Popular Songs sold worse than anything they've released since 1990 … but also charted higher than any previous record. It's a captivating look at how the Internet directly impacted a band that isn't nearly as huge and commercially bulletproof as a Radiohead or Trent Reznor.
Fans should read Big Day Coming for its first half. Once McNew joins and Yo La Tengo starts its relationship with Matador Records, Big Day Coming paints a picture of a band locked into a steady groove. Jarnow makes few revelations from that point. His chapters blur together, quick recaps of recording and touring jaunts, with little inside information of substance. Jarnow also never quite describes the band's music in a way that makes sense for those who may not have heard it. Of course a band with the stylistic diversions of Yo La Tengo isn't easy to describe musically, but if you're not familiar with the records you won't really get the best picture from Jarnow's prose.
Jarnow aspires to write both a standard rock band biography and a larger treatise on how the world of indie rock has changed over the last 30 years, employing the example of a single band that has existed the entire time. He scores points on both fronts, but doesn't always unite the two elegantly. The problem lies with Yo La Tengo itself. In many ways the most obvious band for this treatment, the members stay too humble and too private to help Jarnow meet his goals. That makes Big Day Coming a bit likes its subject—warm, modest, full of history, open and endearing … yet maintaining an unbridgeable distance.
Garrett Martin edits Paste's videogame section and has written about music for the Boston Phoenix, DigBoston and Flagpole. He sent Yo La Tengo an invitation to his high school graduation because they were playing Atlanta that night. That show is mentioned on the first page of this book.
Others Tagged With