BSG's Ron Moore Will Bring Outlander to Television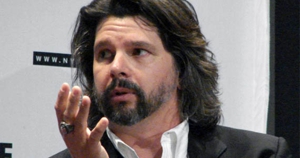 At first glance, Diana Gabaldon's Outlander seems like a strange fit for 48-year-old screenwriter and producer Ronald D. Moore. Moore is accustomed to science fiction epics with his career starting on Star Trek: The Next Generation and culminating in the immensely popular Battlestar Galactica. So upon hearing about Moore's involvement with a series that's primarily a romantic period drama, fans might think "What the frak?" But delve a little deeper and it all makes sense. I'm talking about time travel people.
Gabaldon's seven-book series, which began in 1991, focuses on a British Army nurse who travels to Scotland and embarks on a journey that is part romance, part historical fiction and part honest-to-goodness science fiction. The eighth installment in the series is due to hit shelves next year. Moore will be writing the script for the new series, and Jim Kohlberg's Story Mining and Supply Co. will be producing, according to Deadline.
No doubt Game of Thrones unprecedented success in converting novel epics to television possibly prompted Moore's new project. Still no news on what network will be airing the series.
Got news tips for Paste? Email news@pastemagazine.com.
Others Tagged With