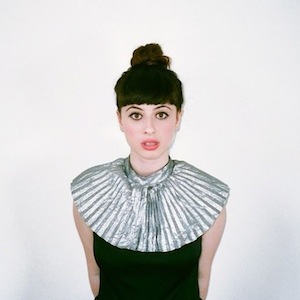 At 22, Southampton-born singer-songwriter Foxes has quite the set of weapons in her arsenal: pristine vocals, a taste for smooth production and an instantly gratifying sound. Loui Rose Allen moved to London with her sister when she was 18. She dropped out of school and was scooped out of obscurity (by Sony's Neon Gold Records) and into a Gossip Girl soundtrack—within the span of just a few months. Since then, it's been full speed ahead for Foxes. Her promising new 3-track EP, Warrior came out last week, and a full-length album's on the way.
Loui made time to talk with us before heading out on her first-ever American tour, which she's in the middle of right now. Our lively conversation covered a broad range of topics: from her new album, to her rather avant-gard songwriting process, all the way to R.Kelly. Yes, R. Kelly.
Check out our interview and stream Warrior EP below.
Paste: I wanted to start off by talking about your new EP. Could you talk me through the process of putting it together?
Foxes: Okay, well it's weird with me. It's slightly strange, because sometimes it'll just like, burst out of me. It'll suddenly all come to me, and it's a bit like magic, in a really weird way. The rest of the time, I'll just be worrying if I can write another song at all. It's strange.
In terms of putting songs together, it's not necessarily a process; it's like, with the different producers I work with, we'll try out different things. We'll put the microphone outside the window and record cars going past, and it ends up in a track, or we'll play around with things in the kitchen, and record that. We get some really original sounds from things like that; I'm a big fan of it. It feels pretty personal, I think, when you do it that way.
I think because of the process, Warrior feel very personal, like no one else could recreate that sound. I definitely think that's quite cool.
Paste: Even though there's a lot of depth to it, your music in general has a certain kind of polish. It sounds like very well produced. That's something I've always associated with British music, more particularly Brit-pop.
Foxes: I'd describe it as a little bit mental at times. Sometimes I'm like, "how on earth does this makes sense?" but that's quite good that you think that I'm slightly polished. I would describe it as British, because I've been really influenced by where I'm from and London, you know. My surroundings have influenced me a lot. I'm a big fan of big production, and I'm a massive fan of soundtrack. Without any lyrics, soundtracks can portray emotion and tell a story. They're just a big piece of work; I think that's really important. Maybe that's why my music sounds a bit produced. Quite a bit produced, haha.
Paste: My favorite song on the EP was "Let Go For Tonight," which I know you worked with Kid Harpoon on. He's done some stuff with Florence + the Machine.
Foxes: I've been in the studio recording the full-length album with him all week. He's one of three people I'm working with. That song is actually a demo; it's not the finished track. We've been in the studio finishing it, which is really exciting, because it sounds amazing. I'm really, really excited about it. But yeah, I've been staying up really late, like every night in the studio, doing tracks this week, which has been fun.
Paste:How do you feel he influenced that song?
Foxes:It's been really fun working with him. He's funny. He's really, really good. He's brilliant. I think "Let Go for Tonight" is actually the first song we wrote together. That was the first writing session we had.
Paste: Yeah, it's a good one. I felt like I heard a little R&B in it, which I loved. I'm a bit of a closet R&B fan.
Foxes: That's amazing! I love R&B. Embarrassingly, like, when I was growing up. I was obsessed with Jay-Z and Ashanti. And I went to see them in concert, and I got like a Jay-Z t-shirt and everything.
Paste: R. Kelly's probably my guiltiest pleasure. I definitely don't tell a lot of people about that one.
Foxes:Oh my God, that's so guilty. That's probably the guiltiest one I've ever heard. It's like, (singing) "I'm flying without wings!"
Paste: You've been able to get a lot of high-quality tracks out in a very short amount of time since you've been signed to Neon Gold. How did that even happen?
Foxes:I think Neon Gold were actually, like, the first people to pay attention to me. I played them youth, and I was really, really excited they liked it. I never thought I was going to get signed, you know what I mean? It's been my dream since I was, like, tiny. When I was younger, I thought you just signed your record deal and became the Spice Girls. It doesn't work like that, which is fine. It was all quite lucky, really, getting signed to Neon Gold. Then, like, my A&R at Sony got in touch, and he just felt right. I had written most of my album before I signed at Sony, so it wasn't like they were signing me on one song, really. They were signing me for me, and they liked all the work I've done. That was a lovely feeling. It all felt right. I wasn't asked to write with all these massive writers, and completely change what I was about. It was literally like, 'we love what you're doing. We want to help you show it to the world.'
Paste:Anything else I haven't mentioned that you'd like to talk about?
Foxes: I'm touring in the the States. That'll be fun. I've never been to America, so that'll be really exciting. We've only just had a few shows, but the reactions have been amazing, like people singing along to the words, which is such a crazy feeling. I'm really excited about it.