Divine Fits Announce First Live Show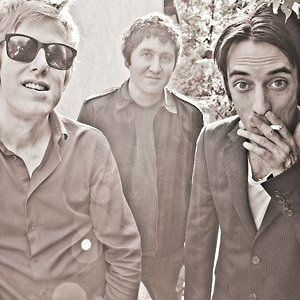 Divine Fits (Spoon's Britt Daniel, Wolf Parade's Dan Boeckner and New Bomb Turks' Sam Brown) announced previously that they would play at the Treasure Island Music Festival in San Francisco in Oct., which was said to be their first gig. But now, the band revealed that their first live concert as Divine Fits will officially take place on Aug. 1, at Beerland in Austin, Texas.
On the band's Facebook page, Daniel wrote:
"Doing shows is the most immediate part of the whole deal and for me it's a huge chunk of the equation of why being in a band is so great. I do feel kinda mental not having been able to do that yet. So is it good timing that pretty soon we'll finally be doing some shows? Yes. And I personally am real happy that this band's first show will be in the the town where I've played more gigs than any other, the place I've spent most the years of my life, the city that always welcomes me back with enthusiasm and affection (with the exception of that one time at the Beauty Bar) — Austin, Texas. Divine Fits will be playing at Beerland on Tuesday August 1 with The Young opening. I think they're putting tickets up next week? I hope so. I'm ready to feel normal again."
Divine Fits' first album, A Thing Called the Divine Fits, will be released on Aug. 28.
Got news tips for Paste? Email news@pastemagazine.com.
Others Tagged With