Episodes Review: "Episode Three" (Episode 2.03)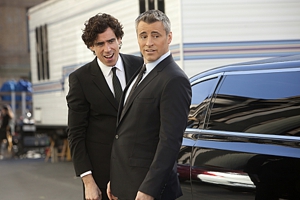 This week, Episodes decided to follow up a sex-filled laugh-a-thon with a touching half hour filled with death and mourning. Of course that didn't stop this comedy from doing what it does best: making moments as uncomfortably real as possible.
The episode starts with a very serious question: Is it okay to stop giving a blowjob to your lover when you just found out your husband's father died?
That's what Merc's blind wife has to decide while performing on Matt. Her decision to continue sets the pace for the rest of the story, which is filled with scenes and dialogue that only a premium cable series can get away with. The show works so well because even though it pushes the envelope, you never feel like it's trying. It all comes so naturally.
Matt, Sean and Beverly spend the first half of the episode fighting the fact that they have to give Merc a condolence gift and actually have to go to the funeral. Matt urges them to never give muffins and pushes for the three to cater an entire dinner for his family. Unfortunately, multiple big-shots thought of this and, to put in Matt's words, "those fuckers boxed us out."
It's suggested they donate to a charity Merc loves, either one where homeless men and women can get tattoos removed or another for Canadian geese. What about Canadian geese? We never find out. But I am beyond curious to find out why the birds need a charity. The scene could have worked based on the conversation alone, but it's the addition of "the world's slowest chase scene" that adds a little spice to an already superb sequence.
Episodes continues to build upon its world and let the actors deliver some of the wittiest lines on television. Like David Crane's previous smash hit (Friends, obviously) this show relies on subtle deliveries that we all know LeBlanc can pull off, but it truly is great to see Stephen Mangan and Tasmin Greig bring their British styling to the plate. I've already said Mangan's role is starting to rival LeBlanc's, and hopefully he continues to blossom as this second season unfolds.
References to Friends never get old in this show. This time, Morning questions if the rest of the cast would come to Matt's funeral. He reassures her they would, and she badgers him if Jennifer Aniston would be there. I don't want to ruin the dialogue, but it's LeBlanc's demeanor that helped him to win a Golden Globe that makes the scene work.
The latter half of the episode shifts focus to the funeral itself. Here we get to see Sean and Beverly continue to rebuild their relationship. While the entire episode treats death as a giant joke, their conversation about their own funerals creates a somber mood. It helps make this episode the perfect blend of hilarity and honesty that all great comedies need. Episodes has clearly hit its stride once again, and there is no looking back.
Others Tagged With