Evil Twin Brewing: Even More Jesus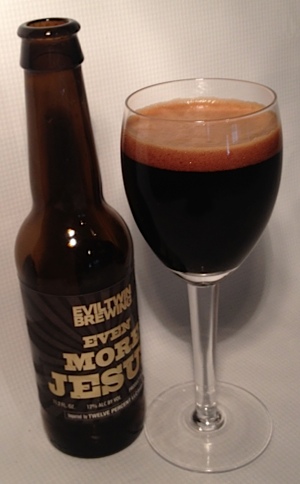 Evil Twin beers are brewed on the Danish island of Fanø. And Scotland. And South Carolina. And Brooklyn. Brewer Jeppe Jarnit-Bjergsø is the poster-child of the "Gypsy brewer"—taking new small-batch recipes to 10 different breweries around the world, contracting them to brew the beers with his label and moving on to the next idea. He rarely remakes a beer, no matter how well it's received—and many of his 50 different beers have been very well received, selling out as quickly as he moves on to the next one.
This ephemeral quality adds to the mystique of his beers, but we're here to judge on taste alone, and we've selected a bottle of Even More Jesus, brewed in the Danish brewer's new hometown of Brooklyn.
It's classified as an Imperial Stout, the 10th time Jarnit-Bjergsø has returned to that particular style. And this time, he's not messing around. At 12% ABV, it's Evil Twin's second-most-potent beer behind the 13% Motolov Cocktail Double IPA. And it tastes as boozy as it sounds.
Pouring as black as motor oil with creamy tan head, it's full flavor hits you even with a modest sip. In addition to smokey Scotch, you can taste the darkest chocolate, the double-espresso and a half-dozen other vices tossed in for good measure. This is the beer for the Jesus that turned over the money-changers' tables at the temple—tremendous power amidst the chaos. Actually in this version, Jesus leaves the courtyard a smoldering ruin.
But Jesus also spoke in parables and what's missing from his namesake beer is subtlety. Dogfish Head Worldwide Stout, another outrageously alcoholic American imperial stout, has more complexity. Brooklyn Black Ops has better whiskey flavors at 10.7%. And Oscar Blues Ten Fidy hits the center of the Imperial Stout bullseye better than anyone.
Still, Evil Twin Even More Jesus is certainly an adventurous entry in Jarnit-Bjergsø's ever-growing travelogue and worthy of seeking out before it's gone, even at the $11.49 we paid for a 11.2-ounce bottle. May the Danish Gypsy brewer ever wander.
Others Tagged With