Mumford & Sons Announce Babel, Reveal Details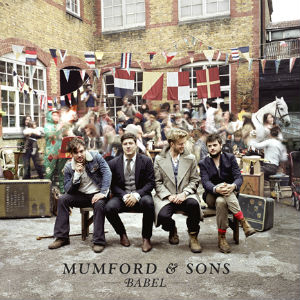 We already knew that Mumford & Sons would be releasing their sophomore album in Sept., and now the band has confirmed a release date and a number of album details for their upcoming record.
The album will be called Babel and will be released officially on Sept. 25. It will feature 12 tracks, many of which the folk rockers have already performed live. According to Rolling Stone, much of the album was written whenever the band could find time on the road over the past two years. "The road has rubbed off into the album," said bassist Ted Dwane.
Continued Dwane: "The ingredients are very much the same: the four core instruments and a lack of a drummer, which can give it that strange, simple, unique sort of sound. I don't think we were looking to be too crazy and experimental."
The band is currently in the midst of a summer tour, and will be kicking off their Gentlemen of the Road Stopover tour on Aug. 4.
The band also released Babel's tracklist, which you can check out below along with their upcoming touring schedule.
Babel Tracklist
1. Babel
2. Whispers in the Dark
3. I Will Wait
4. Holland Road
5. Ghosts That We Knew
6. Lover of the Light
7. Lovers' Eyes
8. Reminder
9. Hopeless Wanderer
10. Broken Crown
11. Below My Feet
12. Not With Haste
Mumford & Sons Tour Dates
August
1 - Hoboken, N.J. @ Pier A (No Fee Ticket)
4 - Portland, Maine @ Gentlemen of the Road Stopover
6 - Providence, R.I. @ Providence Performing Arts Center
7 - Canandaigua, N.Y. @ Marvin Sans Performing Arts
9 - Portsmouth, Va. @ nTelos Wireless Pavilion
11 - Bristol, Va. @ Gentlemen of the Road Sopover
13 - Louisville, Ky. @ Louisville Waterfront Park
14 - Columbus, Ohio @ The LC Pavilion
18 - Dixon, Ill. @ Gentlemen of the Road Stopover
20 - Lincoln, Neb. @ Pinewood Bowl Theatre
21 - Laramie, Wyom. @ Gryphon Theatre
22 - Magna, Utah @ The Saltair
25 - Monterey, Calif. @ Gentlemen of the Road Stopover
28 - Morrison, Colo. @ Red Rocks Amphitheatre
September
1 - Snowmass Village, Colo. @ Jazz Aspen Snowmass Festival
Got news tips for Paste? Email news@pastemagazine.com.
Others Tagged With