Paste film The Man Who Ate New Orleans gets a PBS premiere date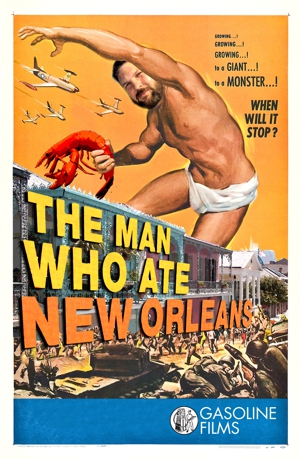 The Man Who Ate New Orleans, Paste's first foray into documentary feature filmmaking, has an official premiere date. Gasoline Films announced today that at 8:00PM on Saturday September 1, the film will have its PBS premiere on WYES-New Orleans. The film will be rolled out to other PBS stations across the country in the coming weeks and months. As those stations are announced, they'll be posted to the film's website.
"This film is, at its heart," said director Michael Dunaway, "a love letter to the city of New Orleans, and given everything that WYES has meant to the city over the past seventy years or so, we can't imagine a more appropriate place to debut."
Dunaway, the Paste Film Section Editor, is the producer and director of The Man Who Ate New Orleans, and Editor in Chief Josh Jackson and Publisher Nick Purdy are two of the film's executive producers. Much of the film's soundtrack is provided by 2012 Grammy winners Rebirth Brass Band, and the film's board of advisors includes Morgan Spurlock, Scott Teems, and Carrie Preston, among others.
"This deal is a testament to all the people who believed in this project from the start," continued Dunaway. "People like Gasoline Films co-founder David Claassen, Gasoline Films CFO Gates Dunaway, Co-Producer Keith Morris, all the Executive Producers, especially Jimmy Wilson, and Natalia Livingston. And this deal would absolutely not have been possible without Edel Kwok and Rocket Surgery Entertainment."
The documentary tells the story of Ray Cannata, a New Yorker who moved to New Orleans shortly after Katrina and led his church to work on the rebuilding of over 500 homes. Last year he became the first person in history to eat a meal at every restaurant in New Orleans. Cannata's story and the film have already been featured on ABC News (national) and FOX News (national), among others.
Gasoline Films and Rocket Surgery Entertainment are currently gathering corporate underwriters for the film's PBS run.
Follow further developments at the film's website, Twitter, and Facebook.
Got news tips for Paste? Email news@pastemagazine.com.
Others Tagged With