Snow on Tha Bluff Hits DVD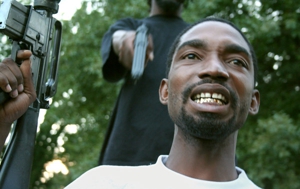 The comparisons of Snow on Tha Bluff to the highly-praised television drama The Wire come easy. Both are gritty accounts of drug trafficking and crime, and both contain charismatic anti-heroes you often struggle to root for. The Wire possesses a great deal of first-hand credibility and realism thanks to its writer David Simon, a former police reporter, and Snow on Tha Bluff is a documentary-esque account of life in one of Atlanta's roughest neighborhoods.
So it's no wonder than that star Michael K. Williams, known for his role as Omar Little on The Wire, was eager to get behind the project. After seeing a leak of the film circulating on Twitter, Williams contacted Russell about collaborating on the film. Williams's serves as executive producer of Snow on Tha Bluff and the film will be released through his new production company, Freedome Productions, on DVD July 19th.
The film chronicles the exploits of seasoned drug dealer and "robbery boy" Curtis Snow. It begins with Snow stealing a college kid's camera during a drug-deal-turned-robbery, thus setting the cinéma vérité film in action. The camera follows Snow's day-to-day life in the Bluff, one of Atlanta's most notoriously dangerous neighborhoods.
The movie is classified as a narrative feature by filmmakers, though it's entirely based on a faux-documentary premise like Joaquin Phoenix's I'm Still Here or Michael Cera's Paper Heart amped up on amphetamines. It's been praised as a authentic snapshot of life on the streets.
The strength of the film lies in what appears to be its frequent real-world inspiration. Drive-by shootings, drug deals, and home invasions are spoken about nonchalantly; in the trailer, Snow calmly explains, "Either you'll be the one to do it, or it'll get done to ya…". Star Curtis Snow has affirmed to the press just how closely the film mirrors his real life in interviews, and he even alleged his lawyer told him not to reveal which scenes of the film are completely real. The movie's documentary conceit appears to be working even better than they could've imagined-police have questioned some cast members about home invasions seen on film and Tha Bluff recently made headlines when horrified audience members caused an uproar at the Atlanta Film Festival showing after the scene featuring a toddler playing with a pile of cocaine, razor included.
Snow on the Bluff is available streaming on iTunes, or on DVD at Amazon and Best Buy.
You can see the trailer below.
Got news tips for Paste? Email news@pastemagazine.com.