Updated: All Members of Baroness Released from Hospital After Bus Accident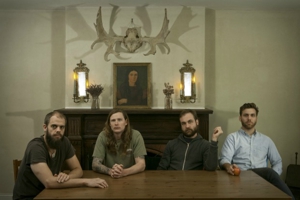 Update: In a message posted to their Facebook page, Baroness has announced that band member John Baizley has been released from the hospital. Allen Blickle and Matt Maggioni had been released previously and are currently back in the United States. Though the band is now safe and sound, they have decided to cancel all remaining 2012 tour dates.
ITV News is reporting that Baroness were involved in a serious bus accident this morning near Bath, United Kingdom while traveling after a performance in Bristol. The bus reportedly crashed and fell 30 feet over a viaduct this morning at around 11:30 a.m.
A total of nine people were on the bus when it crashed, two of which were trapped and had to be rescued by the fire department. Two of the nine passengers were taken to Frenchay Hospital in Bristol with serious injuries. The seven others only incurred what are believed to be minor injuries and were taken to Royal United Hospital in Bath.
Update: Baroness' management has confirmed the accident with Paste. Read a statement from Baroness' record label, Relapse, below. Baroness has also released a statement detailing the condition of the band members: Frontman John Baizley broke his left arm and left leg. Drummer Allen Blickle and bassist Matt Maggioni each suffered fractured vertebrae. Guitarist Pete Adams was treated and released from the hospital.
Relapse Records' Statement

Baroness have been involved in a motor coach accident in the Bath area of England.All band members and personnel on board are currently receiving medical treatment.The band had performed in Bristol last night and were traveling to Southampton for a performance at Talking Heads this evening.All remaining dates on the band's European tour have been canceled. Additional details to come as more information is available.
Baroness' Statement

The band members of Baroness and their crew are recovering from injuries sustained after their tour bus crashed outside of Bath, England early on Wednesday morning.

John Baizley has broken his left arm and left leg. Allen Blickle and Matt Maggioni each suffered fractured vertebrae. All three remain in the hospital as of this writing. Pete Adams has been treated and released from the hospital.

Three of the five crew members who were on the bus have also been treated and released. One member is still undergoing testing. The driver of the bus remains in critical condition.

Please stay tuned for further updates. Thank you for all the support during this extremely difficult time.
Got news tips for Paste? Email news@pastemagazine.com.
Others Tagged With