Celeste and Jesse Forever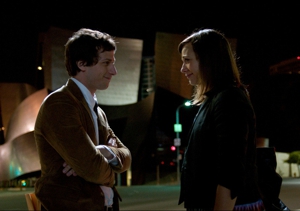 For the 90 minutes following Lily Allen's on-point opening track, "Littlest Things," Lee Toland Krieger delivers a portrait of a relationship rife with contemporary uncertainties, in which one participant is consumed by what's trending, and the other is just coasting.
Scribed by actress Rashida Jones (Parks & Recreation, I Love You, Man) and Will McCormack, the film stars Jones and Andy Samberg as the titular characters, neither of whom has known life without the other, and whose now-too-close-but-clearly-not-together relationship prompts friends to intervene to stop the weirdness.
Despite the comedic expectations created by having the "Dick-in-a-Box" star as one of the leads, Celeste and Jesse is more than a mere laugh-fest—the film accurately explores a relationship between a couple who've been together forever and who've been co-dependent far too long to know how to effectively sever ties. In a manner much less depressing than Blue Valentine, this is what happens when best friends become lovers, grow at different speeds, and drift apart.
Jones's Celeste is a career-minded trend-hunter tasked with catapulting the careers of her rock-star clients, while partner-in-crime Jesse seems more in love with recreation than creating anything meaningful. Of course, it's his playfulness that forces Celeste to search for maturity over familiarity and friendship, but despite initiating the initial split, Celeste struggles with Jesse's success at moving on. This caring-but-competitive tension between the couple rings with truth as the duo attempt to set boundaries for a new normal.
Produced independently (and picked up by Sony Pictures Classics from the Sundance Film Festival), Celeste and Jesse isn't without flaws—there are several conversations from lesser characters that feel more like forced punchline delivery systems. And while there's no doubt that those unfamiliar with the disparate neighborhoods of Los Angeles might not be as in on some gags as Angeleno audiences, overall, the film will leave summer audiences satisfied.
Celeste and Jesse wears its heart squarely on its sleeve, manages to deftly avoid the usual rom-com clichés, and has enough genuine laughs to mark it an indie winner. And while Emma Roberts puts in an endearing turn as Celeste's high-profile popstar client, and Samberg is definitely huggable as the toned-down Jesse, the highest praise must be reserved for Jones herself. Though the writer/star/producer has been busy contributing the quirky-or-confident supporting characters since a recurring role on The Office, her charm on-screen in this lead will leave you needing more of her soon, and often.
Director: Lee Toland Krieger
Writer: Rashida Jones & Will McCormack
Starring: Rashida Jones, Andy Samberg, Ari Graynor, Elijah Wood, Emma Roberts
Release Date: Aug. 3, 2012 (limited)
Others Tagged With