CMJ Music Marathon Announces Initial Lineup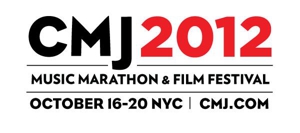 This year's CMJ Music Marathon will take place in venues across New York City from Oct. 16-20. The annual music conference hosts countless industry panels, lectures and musical performances every October, and the initial 2012 lineup of artists was recently released.
Notable artists that will be making appearances include The Walkmen, The Mountain Goats, GZA, King Tuff, Killer Mike, DIIV and many, many more. To see the complete list, scroll down or visit the CMJ Music Marathon website here. Make sure to keep checking back for additional announcements, as this is only the initial lineup. With over 1,300 live performances expected, you can bet there will be at least one more wave of artist announcements.
2012 CMJ Music Marathon Initial Lineup
7 Estrelo
Aan
Amy Bezunartea
Anberlin
Andy Suzuki & The Method
Apollo Run
Arthur Beatrice
At Sea
Bajah + the Dry Eye Crew
Beacon
Bear Hands
Beast Patrol
Bend Sinister
Bertrand Burgalat
Black Milk
The Blakes
Blaudzun
Bonde De Role
Brainstorm
Busy Living
The Catch Fire
Cemeteries
Communist Daughter
Country Mice
Cruiser
Daniel Dexter
Deap Vally
Debo Band
Dent May
Die
Die!
Dinowalrus
Dirty Fences
Disorder
Dog Bite
Dog Is Dead
Dope D.O.D.
Duologue
Dusted
The English Beat
Exitmusic
Fenster
Filligar
Find Vienna
The Flying Eyes
The Foot.
Foreign Fields
Fort Frances
Foxygen
The Front Bottoms
Generationals
Geographer
Get People
Ghost Wave
Gold Fields
The Good Natured
Gospels
GummiHz
Half Moon Run
Happy People
Hey Marseilles
High Highs
Hilotrons
The Hounds Below
Housse de Racket
The Intelligence
Into It. Over It.
Io Echo
Isaac Delusion
J*Davey
Jacob Jeffries Band
Jennifer O'Connor
Jensen Sportag
Jim White
JJAMZ
Karl Hendricks Trio
Kyla La Grange
Labyrinth Ear
The Laurels
Le Blorr
Leaf Bird
Leagues
Leopold and his Fiction
Lescop
Levek
Lily and the Parlour Tricks
The Love Language
The Luyas
Ma'am
Magmana
Main Attrakionz
Mansions
ME
Mean Creek
Men and Whales
Mercies
Metalleg
METZ
Michna
The Midnight Beast
Mike Simonetti
Millionyoung
MNDR
Moon Hooch
Moon King
Mount Moriah
My Dear Mycroft
My Life With The Thrill Kill Cult
Nneka
NO
Oddisee
Opossom
Paul Collins
Physical Therapy
Pissed Jeans
Poor Moon
The Postelles
Psychic Twin
Pujol
RackNRuin
Rebecca Gates
Reigning Sound
Reptile Youth
Res
Robert Glasper
Roomrunner
Rudimental
Rumors
Rush Midnight
Salt to Bitters
Schoepp & The Shades
Sea Wolf
Sean Nicholas Savage
Sean Price
Selebrities
Septicflesh
Shark?
Sinkane
Skaters
Skinny Lister
Skipping Girl Vinegar
Slam Donahue
Slowdance
Solid Gold
The Spits
The Stepkids
Strange Talk
Such Hounds
T.H. White
Talib Kweli
Tauk
Tempers
Tim Foljahn
Tiny Victories
Tom Lark
Tomorrow's World
TOPS
Trapper
Turf War
Twin Tigers
Tyler Bryant & the Shakedown
U.S. Royalty
The Ugly Club
Unicorn Kid
The Virginmarys
Vockah Redu
Von Haze
Way Yes
We Can't Enjoy Ourselves
Wild Child
William Tyler
Woodsman
World's End Press
Woz
Yan Wagner
You Won't
Young Buffalo
Young Evils
Zulu Pearls
Got news tips for Paste? Email news@pastemagazine.com.
Others Tagged With