Eli Roth to Create Full-Length Feature from Grindhouse's Thanksgiving Trailer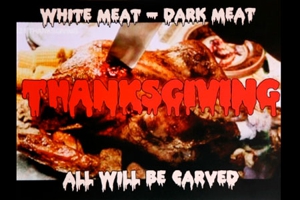 Eli Roth recently told Behind the Thrills he fully intends to turn his fake trailer for a film called Thanksgiving into a full-length feature. After the trailer appeared between the two films included in 2007's Grindhouse, Roth has been toying with the idea of extending Thanksgiving since its release.
Roth is reportedly working with the creators of Clown, another fake trailer attributed to his name that was produced for Grindhouse and has since been developed into a full-length feature.
Roth claims he and the writers have come up with a story idea and will shortly begin work on the script. Given the festive theme and title of the project, perhaps by Fall 2013 Roth will be ready to release his latest horror creation.
Watch the fake trailer here. Warning: Mature Content.
Got news tips for Paste? Email news@pastemagazine.com.