Heineken Launches Hola Indio with Austin Event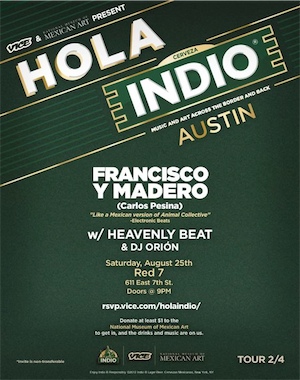 PROMOTIONAL
!Oye, estop! Amid Austin's mainstream, late-night clubs with their rotation of local bands, and the big-names playing the big rooms like ACL Live are the small nightspots that earn the town its "Live Music Capital of the World" branding. Inside that world now comes the increasingly familiar sounds of Latino hip hop, rap and even psychedelia—the kind that has already been injected into Miami's nightlife. With a mantra of "Do your own thing!" the club Red 7 partied on Saturday night with the American introduction of Hola Indio, a darker cerveza that was the perfect accompaniment to the music.
Francisco y Madero most definitely did their own thing performing their collaborative sounds of their origins—both Mexican and American—right in the thick of Austin's downtown music scene where Red 7 feeds music-hungry and brew-thirsty citizens. FyM's mix of live performance with choice sampling gave a cinematic feel to the event, with some large screen visuals enhancing the experience. Sometimes you find yourself in 1960s San Francisco with something you'd expect from the Beach Boys mixing it up with early Santana. Then you're sipping a chela (Indio, of course) at a patio bar in Puerto Vallarta. Check out Francisco y Madero's music at their bandcamp website.
Before FyM, Heavenly Beat did a set of heavily sampled tunes that Beach Fossils' member John Pena sang and played along to, but the performance suffered a bit from some poor audio problems, mostly with the overpowering samples that tended to drown out Pena's voice. Still, some steady, infectious hooks occasionally popped through.
The night's cross-culture sounds have been an ongoing part of the Hola Indio tour that's also reached L.A. and Chicago this summer. The border collusion extends into some Mexican and American art collaborations that have been on display, one example being the works of Mexico D. F.'s Rafael Rodriguez "Pachiclon" and Austin's Michael Sieben, with a mini-doc that can be viewed on youtube. The music and the art are primo examples of how to celebrate two cultures' similarities rather than their differences. Like they say, do your own thing.
Readers can get 30 days of free music by visiting Indio's special Facebook page with over 15 million songs to choose from and to listen to anywhere, anytime.
Got news tips for Paste? Email news@pastemagazine.com.