So Many Wizards: Warm Nothing
[JAXART Records]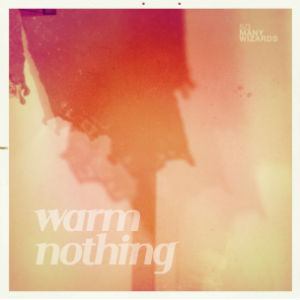 As a youngster, Nima Kazerouni fled a war-streaked Iran, bouncing around throughout South America, Europe, and (briefly) the ghettos of Kingston, Jamaica—all before winding up in his current home, Los Angeles. But for a guy with such a rich tapestry of cultural experiences, his debut full-length, Warm Nothing, fails to draw from that diversity. Instead, it's breezy, tuneful, dreamy and ultimately pedestrian—all those adjectives you'd expect from any pleasantly anonymous L.A. indie-pop quartet.
Nope, Warm Nothing isn't at all concerned with originality: At turns, Kazerouni's songs nod—unsubtly—to bands like Fleet Foxes, Real Estate and especially The Shins, whose reverb-drenched early jams (circa Oh, Inverted World) almost serve as a direct sonic blueprint. That being said, Kazerouni is a highly skilled pop writer, and his most focused songs have huge impact, mostly due to a refreshing lack of pretentiousness.
Opener "Never Wake Up" instantly welcomes the Shins comparisons with its ringing electric guitars, cymbal-heavy beats and huge doses of reverb. It's major-league charming, but so familiar that it fails to make much of an impression. And the vibe is so loose and unguarded on Warm Nothing that many of the band's melodic gifts are marred by first-take sloppiness: Kazerouni's off-key warbling on "Joshua (Kill Us Both)" and the oceanic "Peru" could very well leave you cringing.
What makes So Many Wizards a band to watch is its off-kilter sense of melody and song structure. Lead single "Inner City" has a caffeinated, pogo-stick verse melody catchier than most bands' sharpest choruses; the trippy, inward gem "Best Friends" unwinds deceptively sophisticated chord changes while Kazerouni demonstrates his sweetest falsetto—it's a heartfelt plea for an idyllic romance, as innocently sweet as a second grader's Crayola-penned birthday card ("I don't care what we do / Don't care, as long as there's a park and then a bench for two / I don't care what we do / And as long as we can sit").
At this point, So Many Wizards have more charm than personality—and not quite enough charm alone to make Warm Nothing required listening. But given that they stick around long enough for a sophomore album, eager ears await.
Others Tagged With