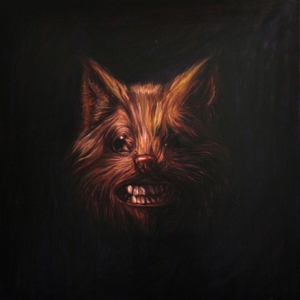 In music, "lengthy" doesn't necessarily equal "epic." But in the case of The Seer, the 12th studio album from experimental post-punk act Swans, the two terms are basically interchangeable.
Michael Gira, the veteran band's frontman and guiding visionary, told the Quietus this album "took 30 years to make," and based on the album's jaw-dropping length alone (clocking in at just under two full hours), it's tempting to interpret that quote literally. But The Seer is equally ambitious from a sonic standpoint: blending disgruntled noise-rock, fragile acoustic balladry, terrifying post-rock grooves and strange experimentation—more or less every sound Swans have previously attempted over the past 30 years—into one of the year's most divisive (and unique) listening experiences.
"Lunacy" opens this endless behemoth with a bright, if discordant, lit—timpani flourishes, huge snare rolls, shards of distant guitar noise—before a wash of vocal harmonies coalesce into a rousing battle cry. Its subtle, elegant beauty couldn't feel more distant from "Mother of the World," which jarringly shifts to noisy propulsion. The track lurches and fumbles, unweaving a creepy Middle-Eastern vocal melody over layers of percussion and raw distortion—but, as is the case throughout most of The Seer, Gira and his massive band rarely revel in weird ugliness for weird ugliness' sake; there's always a destination in sight, no matter how strange. For a while, "Mother" seems destined for an inevitable fizz-out, but it gradually introduces new musical ideas: strummed acoustic guitars, twinkling synth arpeggios, Gira's gurgled croon. An entirely new song seems to arrive out of thin air.
The key to The Seer's delicate noise-beauty contrast is its sense of direction. It's what keeps the album's three crazy-long epics (particularly the half-hour-long title-track) from fading into wallpaper or bleeding out from excess. "The Seer" opens with blaring bagpipes, moves to a brief respite of dusty banjo and industrial beats, segues into a psychedelic bass-drum drone-groove—and dueling drum kits, reversed guitars, harmonicas dripping over buzzing static. But if that description sounds exhausting, the music is thrilling—always pushing forward in a way that's both logical and unpredictable.
As you may expect of this two-hour musical-carnival opus, there's a bit of filler. "93 Ave. B Blues" is a pointless five minutes of discordant woodwind noises and drum cacophony, landing somewhere between Captain Beefheart and a terrified zoo-full of shrieking monkeys. The tuneless beat-poet campfire ballad "The Wolf" serves no purpose other than brooding texture.
But with great ambition comes great risk. Nine times out of 10, The Seer's sonic gambles pay off massively.
Others Tagged With