The Odd Life of Timothy Green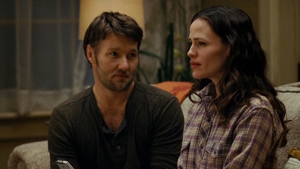 The Odd Life of Timothy Green is an odd, at-times moving meditation on parenthood—the desire to be a parent and the challenges of being one—wrapped in a fairy tale with creepy side-effects. Kid-friendly but not for kids, writer-director Peter Hedges' family fantasy drama is sentimental and slickly produced—as well as thinly plotted and somewhat thematically disquieting.
Jim (Joel Edgerton) and Cindy (Jennifer Garner) Green want nothing more than to have a child but have exhausted all their options for conceiving one of their own. Adoption is an alternative, of course—the entire film is set up as backstory to their interview at an agency—but for now they're grieving, and, in a touching scene, they spend an evening fantasizing about what their kid would have been like. At the end of an emotional night, they gather up the dreams they've scribbled on notebook paper, lay them in a wooden box and bury them in the garden.
Then, in the middle of a drought, a storm rolls through, and Timothy (CJ Adams, utterly delightful and a brilliant bit of parent-child casting) bursts forth—a 10-year-old boy of their very own. With leaves sprouting from his legs. (These growths are kind of icky, actually, but they serve a role in the magical aspect of the story.) Jim and Cindy have made a wish, and in stories like these—Big and Freaky Friday and Garner's own 13 Going on 30 come to mind—things go back to normal once the wisher realizes the vanity of his or her wish and learns a valuable lesson. Except here, the Greens' wish is not vain, and they don't necessarily have a valuable lesson to learn.
As sweet and sincere as its message about parenting is—that it's okay to make mistakes and the best you can do is just make new ones—there's a troubling undercurrent to Timothy Green. Beyond a grossly insensitive comment from Cindy's sister, Brenda (Rosemarie DeWitt), about "trying to have a real kid" (the woman is really awful), the film suggests that the Greens are not ready to be parents. That they need a practice kid first, and then they'll be fit to adopt (as if parents who have "real" kids are somehow more equipped to parent than those who don't). This suggestion would not be so bothersome if it weren't emphasized by the frame story: an adoption interview that positions Timothy's arrival as a trial run.
Meanwhile, running in the background is a story line about a town struggling with the imminent closure of its pencil factory. Why the factory has to close isn't made clear, nor is how a Timothy-inspired innovation would save it. And Timothy falls for an older girl named Joni (Odeya Rush, in her first feature part) in a development that serves the parenting plot but misses an opportunity to explore the toll of Timothy's role on the boy himself.
Perhaps that's asking too much. Timothy Green is a well-done, earnestly feel-good end-of-summer movie. But it doesn't dig deep and as a result is as scattered and fleeting as leaves blowing in the fall wind.
Director: Peter Hedges
Writer: Peter Hedges
Starring: Jennifer Garner, Joel Edgerton, Dianne Wiest, CJ Adams, Rosemarie DeWitt, Ron Livingston, M. Emmet Walsh, Odeya Rush, Lin-Manuel Miranda, Lois Smith, David Morse, Common
Release Date: Aug. 15, 2012
Others Tagged With