Watch a Trailer for The Dark Knight Returns: Part 1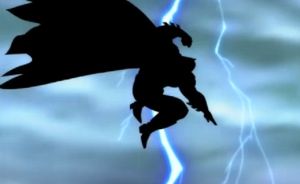 With Batman fans still teary eyed over Christopher Nolan's recent departure from the caped crusader, it's inevitable that Dark Knight withdrawals are bound to set in. Don't worry, DC Comics and Warner Bros. have you covered. Yesterday, DC Comics released a premiere for its upcoming, two-part animated feature The Dark Knight Returns, which as the title suggests, focuses on Frank Miller's iconic comic story of the same name. The film will be split into two parts.
The trailer actually looks a little like The Dark Knight Rises with a muscle-y, shirtless villain going head-to-head with an older, less capable Batman. Even Alfred's warning of Bruce's possible death have a close resemblance to Michael Caine's performance in Rises. Peter Weller also delivers an impressive performance as the voice of the aged Bruce Wayne. The film will be released direct to DVD and Blu-Ray Oct. 23.
You can watch the trailer below.
Got news tips for Paste? Email news@pastemagazine.com.
Others Tagged With