Comic Relief with Brian K. Vaughan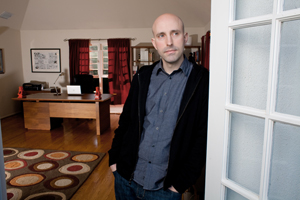 Page 1 of 2
In Comic Relief, Paste chats with some of the most influential writers and artists in comics about their work and the comics that inspired them. Lead photo by Kevin Knight/TheShutterClick.Com
The two years Brian K. Vaughan wasn't writing comics weren't particular short for those of us who grew up addicted to the serial pleasures of his classics Y: The Last Man and Ex Machina. The former Lost writer/producer returned in full form last March with Saga, a touching take on the nuclear family set in a visionary sci-fi universe full of lie-detecting sphynxes, aeronautical trees, and sex tourism planets. Published by Image Comics, the title features lush Technicolor illustrations by artist Fiona Staples, with a narrative about two star-crossed lovers and their newborn child. The interplanetary action coexists with an incredibly intimate core of family and parenthood. Call it Modern Family for the jetpack set.
Even though the author hasn't personally battled galactic bounty hunters, much of the inspiration behind the familial adventures of protagonists Marko, Alana and infant Hazel stems from Vaughan's experiences as a father; he and his wife gave birth to their second child earlier this year. He recognizes that baby raising yarns can be "crushingly boring" for those who aren't doing it, so Saga was designed into equal parts space battles and rattles. "I'm trying to convey how parenthood feels to me through the medium of rocket ships and ray guns." Last we saw, new parents Alana and Marko had just fled in a tree spaceship with the help of a sassy teenage wraith only for Marko's parents to teleport onboard. Elsewhere, a bodyguard and his giant hairless cat hunt the new family to raise enough money to rescue a child sex slave. Without question, Saga lives up to its namesake.
Vaughan tackled this ambitious project after years of writing for both established characters and new properties alike. Aside from scripting memorable runs on such titles as Swamp Thing, Ultimate X-Men, Mystique, Spider-Man and an Eisner-winning arc on Buffy the Vampire Slayer, the prolific scribe has gone on to create some of the most original and critically-acclaimed characters in the medium. Vaughan first started publishing new costumes at Marvel in the early 2000s, starting with the The Hood, a thug who uses a magical artifact to ascend into criminal royalty, and fan-favorite Runaways, a YA adventure about teenagers who rebel against their super-villain parents. The 2006 graphic novel Pride of Bagdad retold the real story of four lions who escape from the Baghdad Zoo during the 2003 US invasion and made any reader who finished it cry until he or she was dehydrated.
Vaughan rounded out the decade with the completion of Ex-Machina, which won an Eisner for Best New Series in 2005 with its tale of New York City's first super-hero mayor, Mitchell Hundred. (Vaughan also took home the Eisner for Best Writer that same year). He's most recognized, though, for his 60-issue epic Y: The Last Man, an apocalyptic drama about an amateur escape artist who becomes the last living male after his gender spontaneously combusts, leaving him to navigate militant feminists, government organizations and poo-flinging pet monkeys. The title won five Eisners (Vaughan has since constructed a vault to backstroke through a reservoir of his awards) and the attention of Damon Lindelof, who recruited Vaughan to join the Lost writing crew.
First Comic Written
Vaughan: I forget what the issue number is, but I think the first thing to appear with my name on it was a random issue of Cable, where I wrote the dialogue for someone else's story. And the Ka-Zar Annual of 1997 was the first book with a pure just-written-by-me credit.
First Comic Read
Vaughan: It would've been a random issue of Amazing Spider-Man. I don't remember exactly as all the comic books were also activity books, and you were supposed to cut out the panels and rearrange them in new orders. It's probably some incredibly valuable issue of Amazing Spider-Man that I promptly chopped up next to extra Garfield panels.
Favorite Comic of All Time
Vaughan: It'd be hard to top The Watchmen.
Favorite Current Comic from a Publisher You Don't Currently Work For
Vaughan: Any Acme Novelty Library by Chris Ware. That's far and away my favorite comic being published today.
Artist You Haven't Worked With That You Would Most Like To
Vaughan: Like every writer, Frank Quitely is pretty high on my list. I'd love to work with David Mazzucchelli. But I'm happy working with relatively new artists, so right now Fiona Staples.
Favorite Comic Book Movie
Vaughan: It's pretty hard to say anything except the first Superman.
Paste: This is the third interview we've had in this series and all three interviewees picked the first Superman.
Vaughan: I love other movies that have been made since, but I think more than any comic book movie, Superman just totally seemed to capture superheroes in ways that others have not. I feel like I'm in good company.
Craziest Fan Story
Vaughan: Fans of my books have just been supremely nice. I haven't had any yet, but I'm going to the New York convention in October, so that's plenty of opportunity for the crazies to come out.
Paste: Years ago I went to one of your signings at Midtown Comics in New York City. Everyone in line was incredibly patient and polite. It was one of the most well-adjusted fan lines I'd ever seen.
Vaughan: Thank you! That's nice to hear. I was afraid you were going to be like, "yeah! everyone was being a total douche!" I'm flattered. Not many people read my stuff, but I really like the ones that do.
Click over to Page 2 to read about Brian K. Vaughan's experience with babysitters, love of Silver Surfer, thoughts on a Saga movie, and whether Ex Machina mayor Mitchell Hundred would vote for Obama or Romney.
Others Tagged With