Feist Wins 2012 Polaris Music Prize for Metals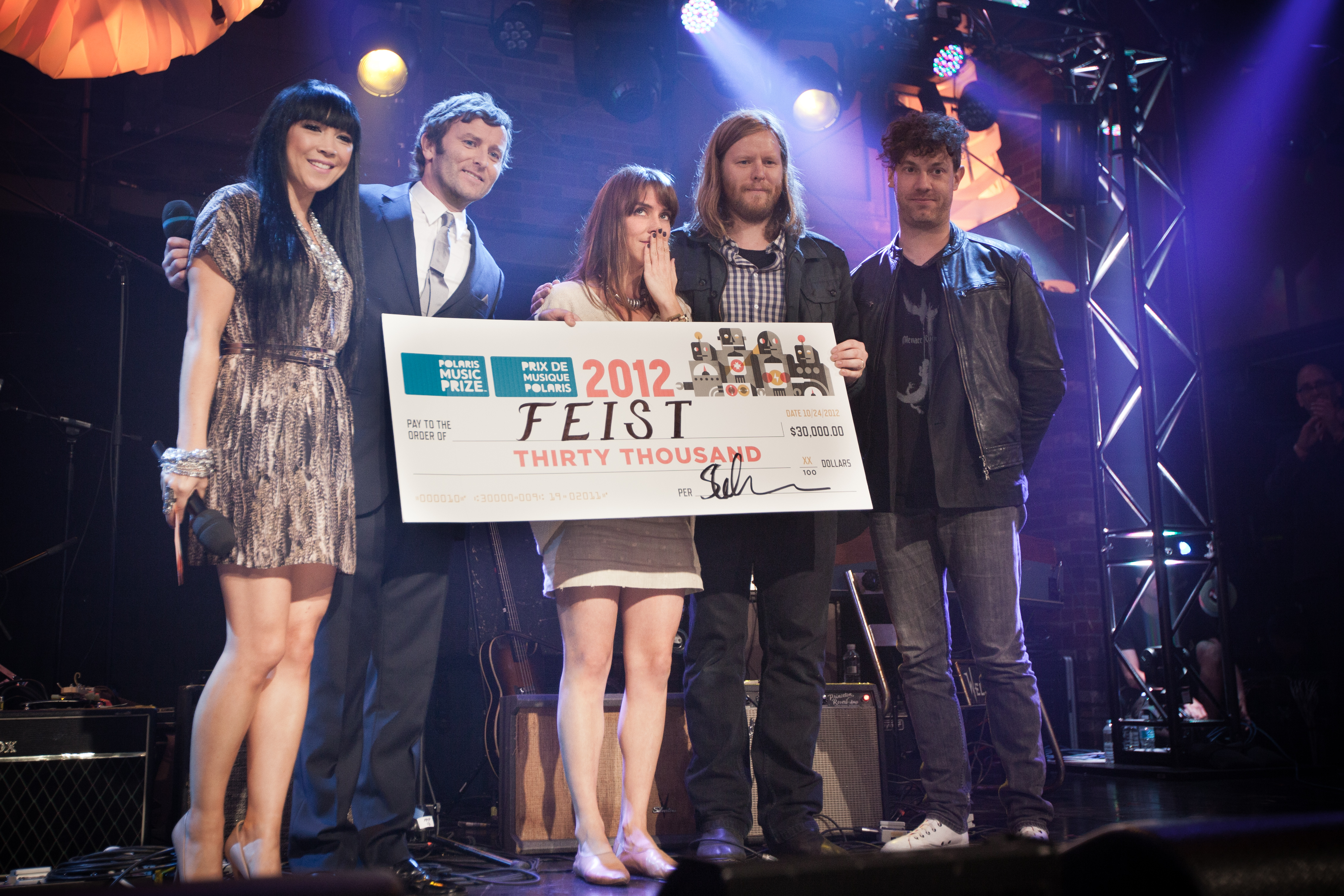 Leslie Feist's latest release, Metals, has been selected as the winner for the 2012 Polaris Music Prize. The award honors the best album from Canada, which is judged by a panel of music critics. The albums are judged strictly based on artistic merit, and a panel of grand jurors selected the winner as the awards ceremony was in progress. Past winners of the Polaris Music Prize include Arcade Fire, Fucked Up and Caribou. Feist beat out Drake, Fucked Up and Japandroids for the prize.
The prize was handed out at the Polaris Prize Gala, which took place Monday night at Toronto's Masonic Temple Concert Hall. Eight of the 10 shortlisted nominees were in attendance, with seven giving performances over the course of the night. Japandroids and Drake were not in attendance, and Handsome Furs did not perform due to the absence of Dan Boeckner. When their nomination for Sound Kapital was announced, Boeckner's former bandmate Alexei Perry a tearful speech.
"It takes fucking guts to be an artist everyday," said Perry. "Time and time again it is art, music and literature that have saved my life."
2009 Polaris winner Fucked Up gave the night's first performance, with frontman Damian Abraham predictably removing his shirt during their second song. Grimes was accompanied on stage by a stripper pole, on which a male dancer named Gary reeled off a number of Cirque du Soleil-caliber moves along with her music. Fittingly, Feist gave the night's final performance just before being crowned the 2012 Polaris winner.
Feist seemed genuinely surprised to have won the award when her name was announced by two members of last year's winners, Arcade Fire. She was presented with a check for $30,000.
"I've been really inspired tonight," said Feist. "Everyone had a favorite tonight and I did too, but I did not think it was me. I'm just really shocked and really, really grateful to be part of the night."
Take a look at the full list of shortlisted nominees below:
Cadence Weapon – Hope In Dirt City
Cold Specks – I Predict A Graceful Expulsion
Drake – Take Care
Kathleen Edwards – Voyageur
Feist – Metals
Fucked Up – David Comes To Life
Grimes – Visions
Handsome Furs – Sound Kapital
Japandroids – Celebration Rock
YAMANTAKA // SONIC TITAN – YT//ST
Got news tips for Paste? Email news@pastemagazine.com.
Others Tagged With