Interpol Announces Deluxe Edition of Turn on the Bright Lights for 10th Anniversary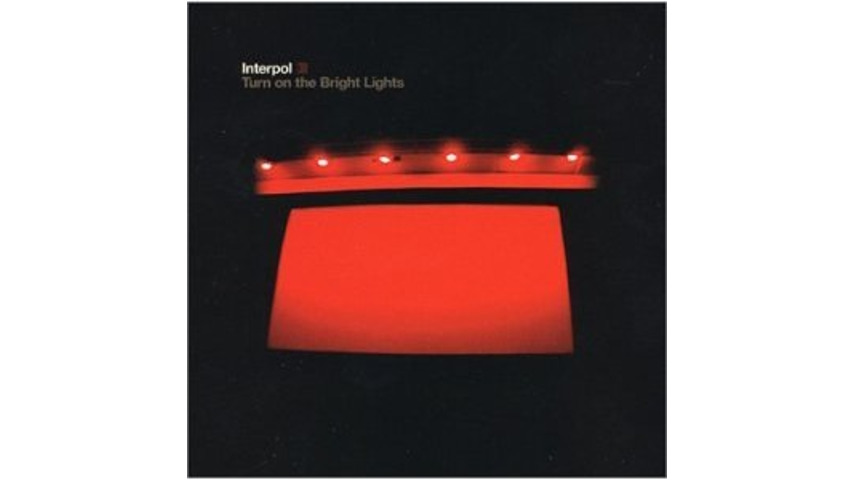 Here's today's news that will make you feel old: Interpol announced their plans to release a 10th anniversary edition of their classic debut album, Turn on the Bright Lights, on Nov. 20. The album will be released with a hardbound book of unreleased photos, and the second disc includes bonus tracks, demos and B-sides. Notably, the package includes songs from Interpol's hard-to-find debut EP including "Specialist" and the unreleased "Precipitate." A DVD will also be included, which has footage of drummer Sam Fogarino's first gig with the band.
"We spent a good deal of time this past year digging through our archives and asking others to dig through theirs in the hopes of uncovering some forgotten material," band founder and guitarist Daniel Kessler said. "The result of our hunting and gathering has yielded this Tenth Anniversary Edition of Turn on the Bright Lights. We wanted to do something special for the fans who have always supported us. We wanted to do something special for the best fans in the world. We hope you enjoy it."
You can take a full look at the album's tracklisting below. Pre-orders for the album are also available through Interpol's website. Frontman Paul Banks also has a solo album set for release on Oct. 23.
Bonus Material:
1 Interlude (iTunes single)
2 Specialist (Interpol EP)
3 PDA (First Demo)
4 Roland (First Demo)
5 Get the Girls (Song 5) (First Demo)
6 Precipitate (2nd Demo)
7 Song Seven (Original version)
8 A Time to Be So Small (Original version)
9 Untitled (Third Demo)
10 Stella (Third Demo)
11 NYC (Third Demo)
12 Leif Erikson (Third Demo)
13 Gavilan (Cubed) (Third Demo)
14 Obstacle 2 (Peel Session)
15 Hands Away (Peel Session)
16 The New (Peel Session)
17 NYC (Peel Session)
Got news tips for Paste? Email news@pastemagazine.com.