Joseph Arthur: Junkyard Hearts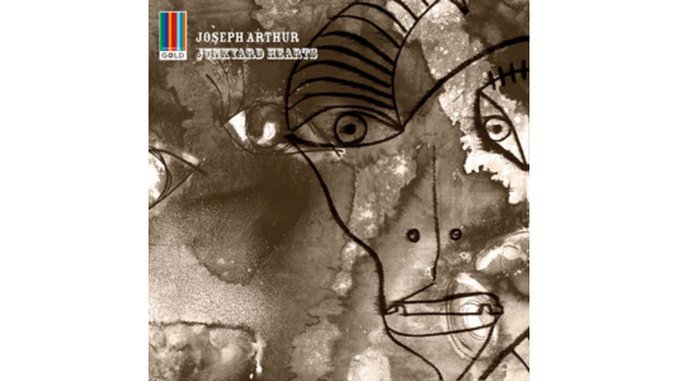 In 2002, Joseph Arthur was sitting pretty. In 1997 and 2000, he had released albums on Peter Gabriel's Real World Records label, both of which were very well-received. He was touring constantly. And he was also encountering the problems that happen when a very prolific artist gets co-opted into a corporate-label machine. Arthur's prodigiousness and his stylistic divergences were (and are) a big part of his appeal, so when it came time to follow up 2000's Come to Where I'm From, Arthur was more than ready: He had nearly three albums' worth of material. Needless to say, despite whatever admiration his label folks had for his creativity, there wasn't much they could do when a critically-acclaimed but low-selling artist came to them with 35 songs that were ready to be released.
Sixteen of those tracks would take the form of Redemption's Son, which was released by Real World in the UK in May 2002 (and later in the year by a US indie label). As for the other 19? Well, Arthur took those into his own hands, releasing them on his own as four separate EPs in February and March of 2002. The "Junkyard Hearts" EPs were simply titled—EP I, EP II, etc.—and were pressed in unique CD and vinyl packages designed and illustrated by Arthur. Now, as part of Real World's "Gold Series" of reissues, those EPs are not only finally compiled as one set, but also rescued from their limited-edition fate and made widely available. However, just because the four sets are brought together under one title, that doesn't mean that they are any more stylistically consistent than they were in 2002. One of the beautiful things about the individual releases was that each EP was allowed to be self-contained and internally logical; bringing them together results in something of a confusing range of sound. The expansive weirdness of EP III's nighttime psychedelia ("The Termite Song," for instance) doesn't have a whole lot to do with the acoustic simplicity of a cut like "Cracker Jack Box" from EP IV or the mellow, multi-tracked groove of "This Heart Will Swallow Us" from EP I. And while they may not make for an entirely consistent album when brought together, it's still great to be able to hear just how engaged and creative an artist can be at the peak of his powers.
Others Tagged With